We spent Sunday reviewing all our holdings and numerous markets using monthly, weekly, and daily charts. Based on the bearish signs in numerous markets and time frames, we also prepared for the next possible round of defensive moves.
The recent declines in commodities were caused in part by the approaching end of QE2 and rising inflation expectations. Bloomberg noted a sharp increase in inflation expectations, which may continue to drag down stock prices:
Expectations for annual consumer-price gains have jumped by 43 percent to 2.10 percentage points since the central bank began its second round of asset purchases in November, as measured by the breakeven rate for five-year Treasury Inflation Protected Securities. The measure is close to levels before the recession — when the central bank's benchmark interest rate was 5.25 percent, compared with about zero today.
The weekly chart of the S&P 500 below aligns well with possible concerns about the Fed and inflation. A potentially bearish reading on a weekly chart should be taken more seriously than one found on a daily chart. During a healthy advance, indicators, such as RSI, tend to make higher highs when the market makes a higher high. That is not what we have on the chart below, which means we should continue to be open to raising more cash this week. Materials (XLB) and foreign stocks (EFA) would be the first place for us to look relative to possible sales.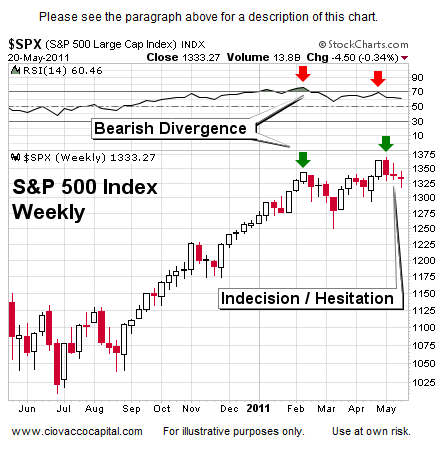 The daily chart of the S&P 500 below also points to a market that may be looking over its shoulder for the Fed. The blue arrows show a series of lower highs. The red arrows highlight lower lows. Put the blue and green arrows together and you have the makings of a bearish short-term trend in stocks.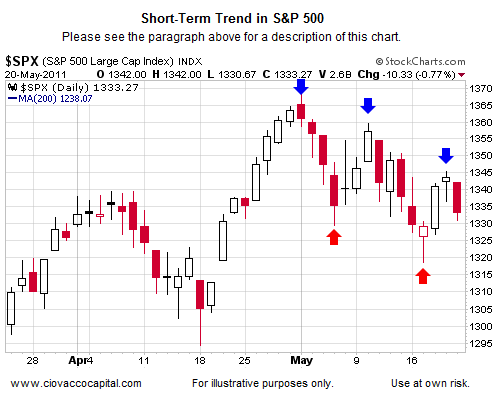 With the QE2 June termination date right around the corner, the S&P 500 closed last week below 1,336, a level that has been important to traders since early April. The longer we stay below 1,336, the more we will err on the side of playing defense.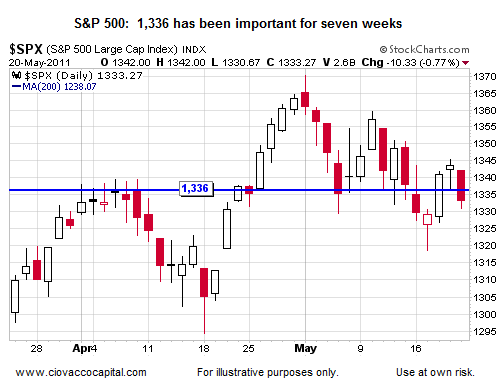 We mentioned on May 13 that defensive stops were needed in a fragile environment. We currently have a substantial cash position, as many of our lines in the sand have been crossed. If weakness continues, which seems to be the current bias, we are willing raise more cash.