As of 8:15 am ET, European stocks are up roughly 0.20%, we have positive news from Research In Motion & Oracle, and the market is looking for a slight uptick in consumer confidence to be released at 9:55 a.m. ET.
Most market observers believe a break above 1,130 is unlikely based on (a) weak volume and (b) strong trading range resistance just a few points above us. We share those concerns. However, we must be prepared for a possible break above 1,130 over the next week or so based on a clear improvement in the market's technicals (charts and indicators) and recent economic data (weak but not projecting a double-dip).
While stock charts can look intimidating, the basic tenants of technical analysis are fairly simple. From a bullish standpoint, you want to see indicators make new highs as markets make new highs. Many indicators give bullish signals when they move above a "zero line" or midpoint of a range.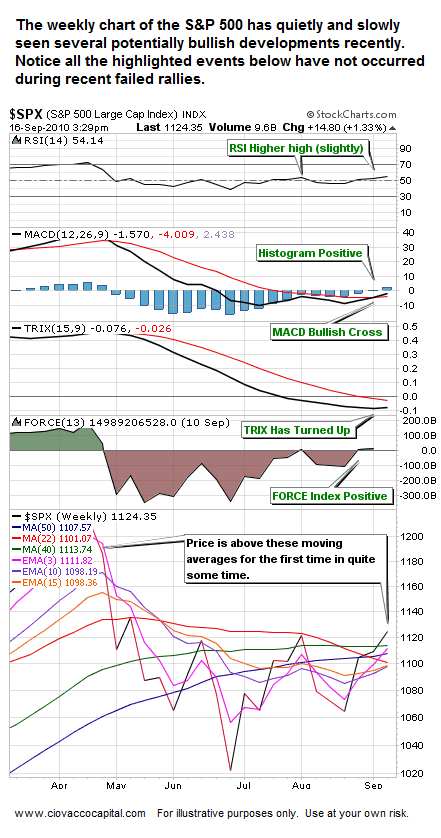 The most important element in reading charts may be to look for changes in terms of "has this happened before in the current rally?" For investors, rather than traders, weekly charts are more important since they can filter out normal volatility. A daily chart can look quite healthy during a countertrend rally in a bear market; that is not the case with a weekly chart. In fact, on the weekly charts of the S&P 500 shown here, there are numerous examples of indicators being at levels that are rarely seen during a bear market. This tells us while we are concerned about lack of conviction from buyers; the market is not as weak as it may appear at face value.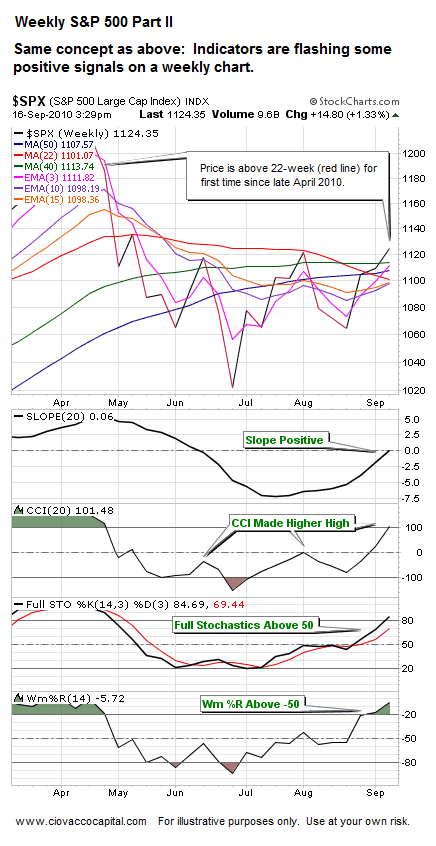 The CCM Bull Market Sustainability Index (BMSI) was basically unchanged yesterday closing at 1,993, which keeps it near the top end of the neutral range and the low end of the bullish range.
As we stated in Investment Contingency Plans 2010-2011 (see video 2:00 to 2:50), we will be looking at both the technicals and the fundamentals if the S&P 500 is able to break above 1,130. The chart of the S&P 500 shown in Stock Market's Internals Improving still applies as we head into Friday. The market has resistance near 1,124 and then again near 1,150. A logical place for pullback support comes in near 1,090. The top end of the S&P 500's current trading range on a closing basis is 1,127; intraday was 1,131. On a weekly closing basis, the number to watch is 1,122. With pros and cons relative to a sustainable move above 1,130, the best strategy is to pay attention with an open mind. If a break above 1,130 occurs on tepid volume and questionable breadth (advancers vs. decliners), it will be a yellow flag.