The chart below shows the S&P 500 breaking out above: (a) the rising blue wedge, and (b) the green horizontal weekly resistance line. We have a bullish weekly candlestick breaking above three forms of potential support (two from the wedge and the green line). While reversals can come at anytime, a move next week toward 1,430 seems more likely than a reversal on Monday or Tuesday. We will be watching for signs of weakness near 1,410, 1,426, and 1,430ish.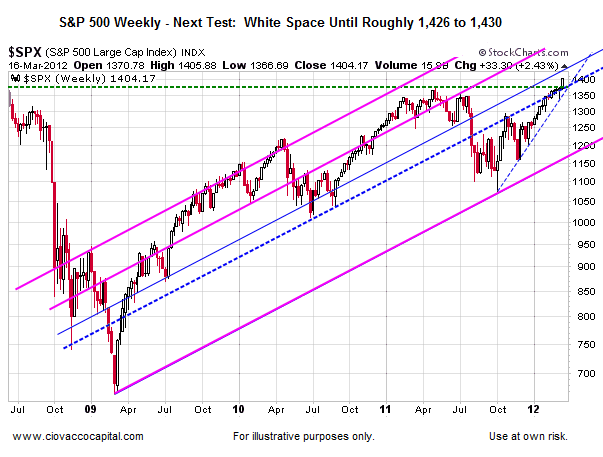 The markets seem to have calmed down quite a bit, but bad news could test that in the next week or so. A correction is coming at some point, but there is little in the way of concern on the daily, weekly, or monthly charts of the S&P 500 Index. There is also little evidence hinting that a major top is imminent.
We have some DeMark signals that could surface next week with Wednesday, Thursday, and Friday offering the potential for DeMark yellow flags. Deterioration can occur very quickly, in a day or two. So, the bullet points below can flip toward the correction camp very quickly. The point of the exercise is to demonstrate that as of Friday's close the market still looks healthy.
With the caveat that charts can change quickly, below are a few observations about the current short, intermediate, and long-term S&P 500 charts (as of 3/16/12) . Every bullet point leans toward the bullish camp. If you know technical analysis, it is almost impossible to make a bearish read on the current charts.
On the daily chart of the S&P 500:
RSI moved back above 70, which is a sign of strength.
MACD had a bullish cross this week and the MACD histogram ticked up.
OBV, or on balance volume, made a new high with price.
The slope of the 20-day moving average is trending up again.
ADX green is over ADX red. The black ADX line is rising again, indicating a strengthening bullish trend.
ROC, rate of change, is as high as it has been in three or four weeks.
The Force Index is well above the zero line.
The Bollinger Band width line is rising from low levels.
AROON is on 100 Up Green and 68 Down Red, which is also bullish.
Williams %R moved well above -20 this week confirming the breakout shown above.
The Ultimate Oscillator moved back above 70.
On the weekly chart of the S&P 500 Index:
Three-weeks of indecision were followed by a bullish candlestick this week.
RSI made a new high and is rising.
MACD black is rising.
OBV made a new high.
The 20-week recently crossed the 50-week.
The slopes of the 20, 50, and 100-weeks are all up.
CCI is rising again.
MACD Histogram ticked up again this week.
ADX green is over ADX red. ADX black is rising from low levels, indicating we could be early in a new long-term uptrend.
The Bollinger band width line is rising.
AROON 100 Up Green, 8 Down Red = Bullish.
On the monthly chart of the S&P 500:
RSI > 50, rising, made a new high this week.
MACD: recent bullish cross.
MACD Histogram is rising.
The last three months have bullish candlesticks.
CCI > 100 and rising.
ADX Green > Red – ADX black rising from low levels (bullish).
TRIX black > red and rising.
Ultimate oscillator is rising with new high this week.
WmR % > -20.
AROON 100 Green Up, 20 Red Down = Bullish.
The conditions above are valid as long as they are in place, which could be for three hours, three days, or three weeks.