Short-term events and divergences are not as meaningful as those that appear in longer time frames. However, a divergence/rally has to start somewhere. Monday's stock market session was not as bad as it appeared. The tone improved during the day and the intraday low was made at lunchtime.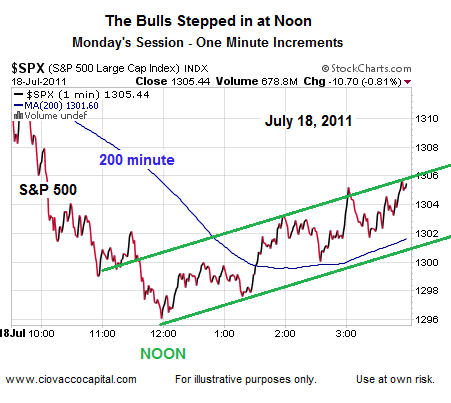 We also have some short-term bullish divergences making an appearance on the daily chart of the S&P 500. We would prefer to see these divergences on a weekly chart, but it still means selling pressure is waning a bit in the stock market. Stocks made a lower low (compare A and B), but the indicators made higher lows (A-1 compared to B-1, and A-2 compared to B-2).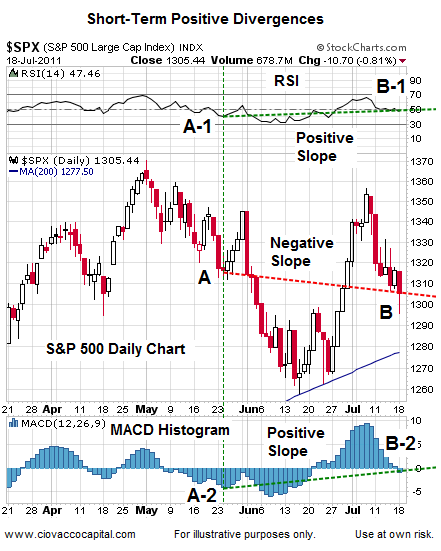 In Monday's video, we discussed the significance of the slope of the 200-day moving average. The S&P 500's 200-day as of the close on July 18 is shown below.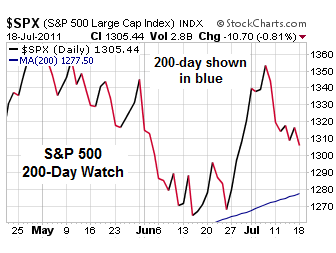 On the divergence front, we showed positive divergences on the chart of the CRB Index (commodities) on June 22 (chart below). The inset shows the CRB has tried to make some progress, albeit not that impressive, since June 21. The strength in gold and silver have been much more pronounced than a basket of commodities (CRB).