All the elements are in place for trend exhaustion (at least the set-ups). At the close on Friday, we had exhaustion signals on short (minutes), intermediate (day/week), and long-term (monthly) charts. Until we see some evidence of a turn, the set-ups are just that - "set-ups". One yellow flag for the bulls is the weakness in industrial metals, such as JJC and DBB. Transports (IYT) have also been weak recently.
All indicators, including DeMark's, should be used in the context of the big picture. While the indicators can give some fabulous signals, they are not immune to giving false signals, especially in strongly trending markets. We have strongly trending markets currently. Therefore it is prudent to have contingency plans in place for bullish and bearish outcomes. DeMark indicators are proprietary tools developed by Tom DeMark of Market Studies, LLC.
As we have mentioned on a few occasions, even if DeMark exhaustion signals prove to be "wrong", they can still give us some good information. The text below, taken from Tom DeMark's book New Market Timing Techniques, puts some context around these concepts:
Stop Loss: Since this stop-loss technique was created over 20 years ago, it's been applied to a number of indicators. It still has an amazing ability to protect me from prematurely exiting a trade, as well as its ability to be sufficiently sensitive to changing market conditions. In fact, there have been individuals who have used TD Sequential, and once this stop loss has been triggered, they have exited the trade and have, at that same time, successfully reversed their positions, because when a TD Sequential trade does not work, as Paul Tudor Jones observed and described it, "it really doesn't work."
CCM's technical models have flipped into bullish territory. In the last three weeks, standard technicals have turned impressively in numerous markets. Our approach will be to observe with an open mind and make adjustments as needed.
We remain in an event-driven market. One headline from Greece could spark another sharp leg higher or a steep correction. Given what we know as of Sunday afternoon, we believe a pullback or correction would represent a buying opportunity. However, we are still crunching some numbers and reviewing charts, but the weight of the evidence has been trending in a bullish manner since the ECB and Fed flooded the banking system with "liquidity" (a.k.a printed money). As the chart of central bank balance sheets shows below, we are currently in uncharted territory in terms of global money printing. Notice how the ECB's balance sheet goes vertical near the end of last year (green line far right). Money printing, in the short run, leans bullish. In the long run, it will end badly, but that could be years away. Chart courtesy of Grant Williams via Zero Hedge.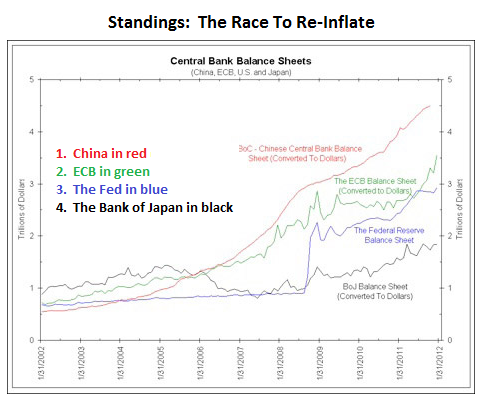 Reuters on central bank actions:
Some central banks have quietly unleashed a fresh flood of money in recent weeks.

The ECB has pumped half a trillion euros of three-year ultra-cheap money into its banks with more to come on February 29. The Bank of Japan and Bank of England are printing fresh money with new bond-buying programs, and Sweden's Riksbank surprised with an interest rate cut last week. And last month the U.S. Federal Reserve extended until late 2014 its pledge to keep rates ultra low.

James Rickards, an investment banker at Omnis, called the latest central bank measures a risky inflation strategy "to scare us into spending." Neal Soss, chief economist at Credit Suisse, sees them as a wise investment to secure a vulnerable upswing.

"The massive expansion of central bank liquidity should better prevent and insulate the real economy from financial shocks. If that's the case, the current upswing in cyclical momentum may prove more sustained than previous speed-ups," Soss said.