According to Investopedia, a whipsaw is a condition where a security's price heads in one direction, but then is followed quickly by a movement in the opposite direction. The origin of term is derived from the push-and-pull action used by lumberjacks to cut wood with a type of saw with the same name.
As we stated yesterday, our End-of-a-Correction Model has checked off 94% of the items on the list of things we would expect to see when the market is turning from a short-to-intermediate downtrend to a short-to-intermediate uptrend. Is it still possible that stocks make a lower low by dropping below the intraday low on March 16 of 1,249? Sure it is – anything is possible when millions of people are digesting new information and making buy and sell decisions based on their interpretation of the information.
Based on the market's recent extreme oversold condition, we believe that if stocks make a lower low, it will be accompanied by positive divergences. A positive divergence occurs when stocks make a lower low, but an indicator or indicators make a higher low. When positive divergences are present, it is much easier to (a) hold your long positions, and (b) add to your long positions.
An example of a whipsaw followed by a positive divergence is shown below. The orange arrows highlight bullish signals in RSI and MACD. For our longer-term investment perspective, these proved to be false signals since stocks made a new low soon thereafter (see orange line). The good news is the lower low was accompanied by a positive divergence in MACD – stocks made a lower low while MACD made a higher low (see green solid line). The July 2010 low proved to be a good buying opportunity as we postulated on July 3, 2010, despite that being a time where it was easy to find bearish articles and analysis.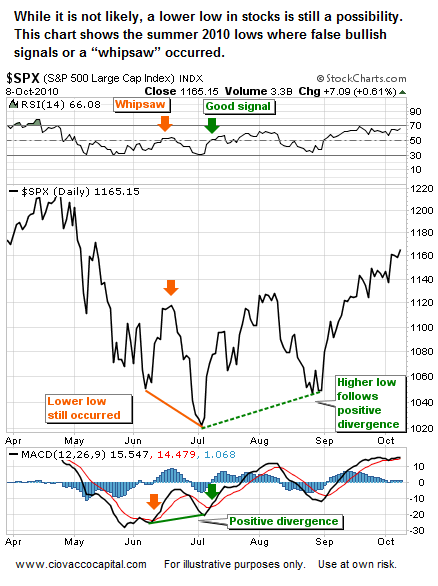 If stocks make a lower low that is not accompanied by positive divergences, we must respect and plan for the possibility of a longer and more painful correction in stocks and risk assets. In the present day market, the Summation Index continues to give bullish signals (see below).