On Thursday, we noted that we would exercise some patience with our long positions as long as the S&P 500 held above the 1,260 to 1,300 level. Today, we explain why:
1,280 represents a potentially strong level of support.
1,440 is not out of the question.
Line A dates back to 2007; it has been broken in a bullish manner and now may act as support near 1,280. Lines B, C, and D are parallel trendlines based on the lows highlighted via the green arrows. Line C intersects with Line A near 1,280, providing a possible strong level of potential support. In terms of upside, Line D says 1,425 to 1,440 remains possible.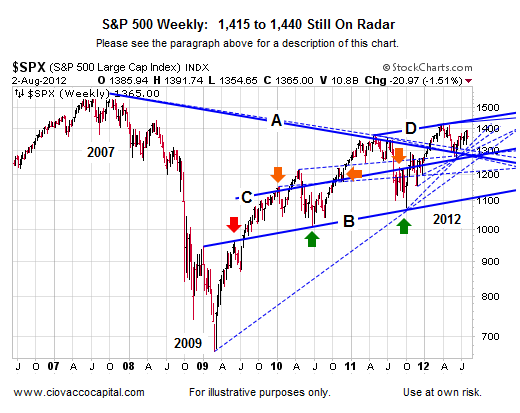 During the trading day on Thursday, we noted the VIX was telling us the dash for the stock exits was not as bad as it appeared. As of 7:10 a.m. EDT, the futures seem to agree with a 13 point gain. A lot can change between 7:10 am and 4:00 p.m., but from a bullish perspective Friday is off to a good start.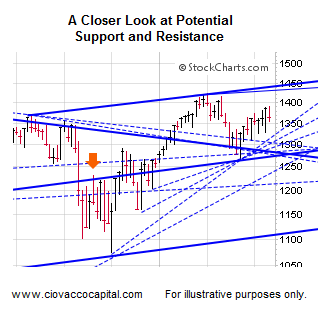 If time permits, we will cover the chart above via video this weekend. You can check Short Takes, Twitter, or the CCM YouTube Channel for updates.