Today's move in the markets was positive. However, the conviction behind the gains was not all that impressive. As of 4:00 p.m., the handful of ETFs below traded roughly 68% of their average daily volume (way below a typical day). The light ETF volume points to tepid interest from institutions and hedge funds.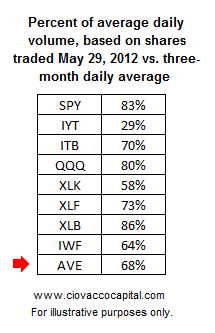 Last June, a low volume rally did carry stocks higher, but it was fully retraced later in the summer. We are open to adding to our holdings, but we would like to see a little more conviction from buyers. It appears as if stocks could move higher; the question is how sustainable will the move be?
Conservative assets, such as TLT and UUP, hardly experienced a mad dash toward the exits. TLT lost 0.31% today and UUP dropped only 0.04%. Both remain above the support levels shown below.