Since the situation in Europe could return to full-blown crisis mode at anytime, it is important that we have an unbiased way to monitor risk. The video below describes the new CCM Market Risk Model (MRM) that was created to monitor an increasingly volatile environment characterized by sharp corrections and steep rallies. We recently described the "end" of the process or the CCM Asset Allocation Model; the Market Risk Model is one of the inputs used in the process.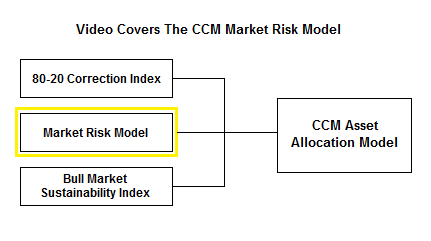 The CCM MRM is scaled between 0 and 100 with 100 being the most bullish. A reading of 50 tells us 50% of the questions in the model were answered in a bullish manner (50% were answered in a bearish manner). We have and continue to study historical readings to understand where risk crosses into unacceptable territory for a given investment allocation.
Video contents and time periods:
Model objectives: 00:58 – 03:33
How does it work? 03:33 - 10:27
Daily updates: 10:27 – 12:47
Daily "sign off": 12:47 – 13:22
Market turn examples: 13:22 – 21:54
CCM info / legal: 21:54 - 22:53
After you click play, use the button in the lower-right corner of the video player to view in full-screen mode. Hit Esc to exit full-screen mode.


As a point of reference, the Market Risk Model closed at 85 on April 18, which means 85% of the questions are still being answered with a bullish "yes". The model is designed to move rapidly when conditions deteriorate. Thus far, the deterioration is not alarming. With the market looking a little vulnerable, we will be watching all our models closely.