The market has not given us enough new information over the past five trading sessions to draw any firm conclusions about where risk assets may be headed in the short-term. What do we know?
Stocks are in an uptrend.
The S&P would have to close below 1,354 to do any significant damage to the current bullish trend.
Buyers have two big motivators in the form of possible policy moves from the Fed and ECB.
The recent S&P 500 breakout has been followed by extremely tentative price action.
Resistance sits between 1,403 and 1,415.
The chart below looks complex, but the concepts are easy to follow. The S&P 500 recently broke above the four trendlines A, B, C, and D. These four lines may now act as support (where buyers may step in). The "fans" labeled F1, F2, and F3 are based on recent highs and lows; they also may offer some support. From a horizontal perspective, key areas where trading algorithms may perk up include 1,386 and 1,358. The recent new high in daily RSI (blue arrow) represents a subtle, and possibly bullish, change from the previous three RSI peaks (red arrows).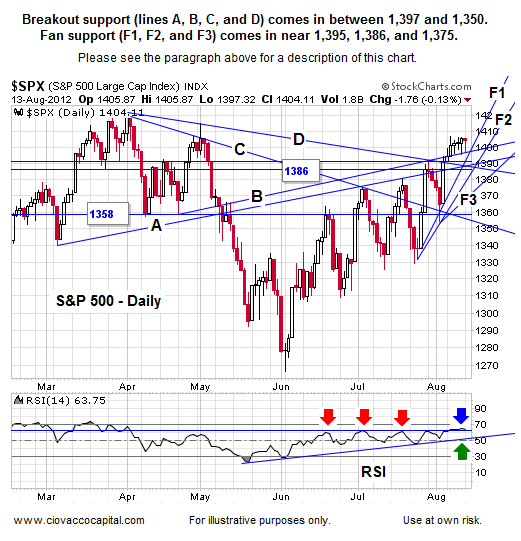 If is difficult to call the recent moves above trendlines A, B, C, and D anything other than bullish. A trendline break represents a shift in the perceptions of buyers and sellers. The shift is most likely related to the recent signals from the Fed and ECB that another round of market intervention is coming in the not too distant future.
Other than tentative price action and possible forms of resistance, there is very little to support longer-term bearish outcomes. If bearish evidence begins to surface in a meaningful way, we must remain flexible.
The following would improve the short-term bullish case for the S&P 500 and risk assets in general:
A daily RSI close greater than 65
A daily S&P 500 close above 1,407
A weekly S&P 500 close above 1,415