Financial markets love any story that involves printing money. Tuesday's report showing China's import growth fell to a two-year low prompted speculation that "China will loosen monetary policies to bolster economic growth", according to Bloomberg. Tuesday's gains left numerous markets overbought and susceptible to any negative headlines.
Europe may provide those headlines. Despite an eye-popping increase in the European Central Bank's balance sheet, the yield on an Italian 10-year bond remains over 7%, which is unsustainable. Between now and March, when Greece has to pay off some monster bonds, negative headlines may become commonplace again. As the markets were focusing on China bringing new money into the system, Europe continued along a deflationary path. From Reuters (01/11/2012):
Hedge funds are taking on the powerful International Monetary Fund over its plan to slash Greece's towering debt burden as time runs out on the talks that could sway the future of Europe's single currency. The funds have built up such a powerful positions in Greek bonds that they could derail Europe's tactic of getting banks and other bondholders to share the burden of reducing the country's debt on a voluntary basis.
As outlined previously, we remain concerned about the sustainability of any S&P 500 gains above 1,285 (see 1:40 – 3:35 mark of December 3 video). The green arrows in the chart below show instances when the blue trendlines acted as both support and resistance. Those lines intersect near the orange arrow and represent possible resistance for stocks.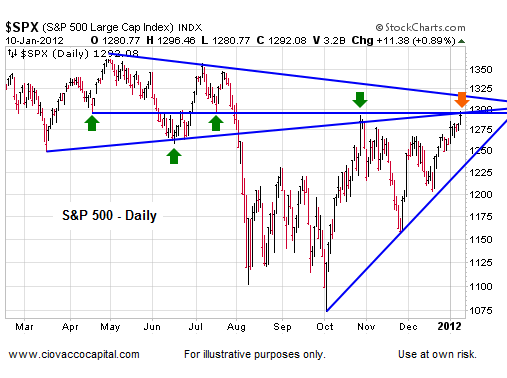 If the S&P 500 can push higher, the next points of possible resistance come in near 1,305, 1,313, 1,326, 1,334, and 1,343. If signs of a reversal surface, we may cut back on our long positions (IJR) and consider the short side of the market.