View most recent thoughts on Twitter.
Not much has changed in the last four trading sessions. One good sign this week is the conviction from bond buyers seems to be waning relative to the past two weeks. As of Wednesday's close TLT is not a leader. We have presented the chart below in the past. The version here is as of the close on October 3, 2012.
If you follow our work, you know we have been concerned about weakness on numerous intermarket charts. One of the risk-on vs. risk-off ratios we track is the performance of the S&P 500 relative to intermediate-term Treasury bonds (IEF). When the ratio is rising, stocks are performing well relative to bonds (see chart below). This week, the ratio is trying to make a stand (see point A). The intersection of numerous trendlines could act as support for stocks relative to bonds. The last four times the ratio held at support, it marked a good entry point for stocks (see 1-4 below). The S&P 500 is shown as a point of reference.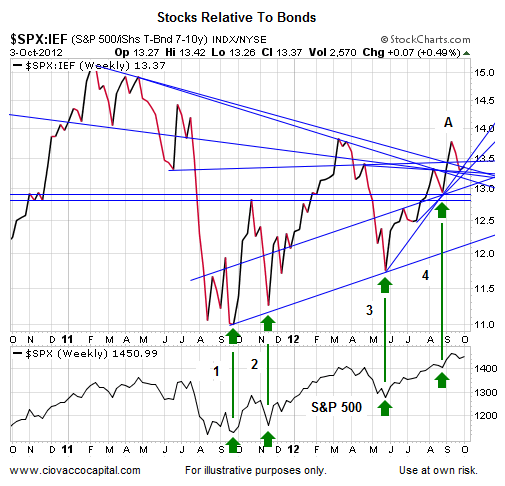 The pattern has been to buy risk at support (where the ratio hits the blue trendlines). At some point the pattern will be broken, but for now it remains intact. The chart above is a weekly chart, which means where it finishes the week is much more important than Wednesday's close.