As we wrote on July 2, Germany's shift on intervention was clearly telegraphed to the markets, meaning today's European Central Bank bond buying announcement is not surprising. Our ECB-friendly positions are doing well today: Spain (EWP) up 4.9%, Italy (EWI) up 3.9%, Euro Stoxx 50 (FEZ) up 3.4%, and silver (SLV) up 2.1%. The S&P 500 has tacked on 60 points since July 2.
We have been referencing the ratio of "risk-on" to "risk-off" (SPY/IEF) for several weeks. On September 4, we noted risk-on was trying to hold support. Earlier this week, the Dow hinted at Thursday's gains by trying to hold at a logical level. The zoomed-in version of the risk ratio below shows a definitive break higher (see A) after the ECB formally outlined plans it hinted at long ago. The green arrows show where RSI for risk-on vs. risk-off held at 50 (see B), which is what a bull market looks like. A bullish divergence with price is shown via the red line (near C).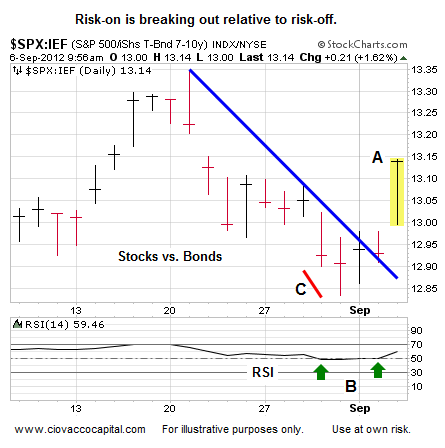 The chart below is as of Thursday at 9:45 a.m. EDT. We postulated on August 22 that a logical level of support may come near point F below. As shown by the green arrow, the stock/bond ratio held exactly at the horizontal "F". The green arrow also points out the intersection of lines F and H; the fact that price held there "confirms" the breakout in risk that occurred in early August. The stock market also held near a logical support line (see J). The next challenge for the bulls is numerous forms of potential resistance below G. The bigger picture calls for a bullish break, but we still need to see it happen for the rally in risk to continue.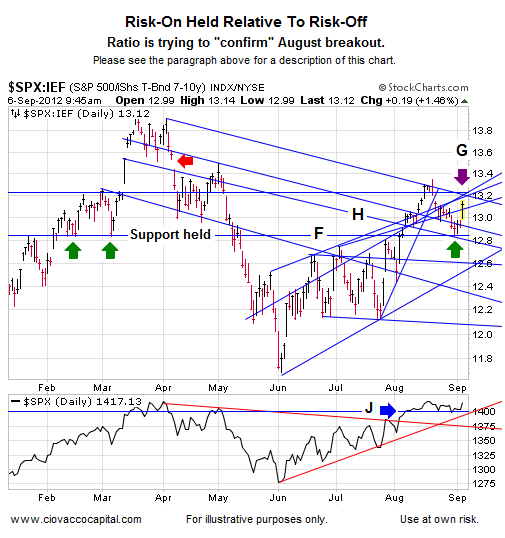 The bullish set-ups in small caps (IWM) that we outlined on August 29 remain in place. IWM is up 2.1% since breaking above the "cup-and-handle" patterns. Small caps currently align with the bullish case for risk.
Things look good for risk thus far on Thursday, but maximum flexibility remains a requirement given the state of the global economy. We will remain invested in risk as long as the markets allow.