From the late August lows, the S&P 500 was up 10 out of 13 trading days. The market is due for a breather. As we mentioned in Monday's Breakout in Stocks Was Fair-to-Good, Not Great, breakouts can fail, so the move above 1,131 needs to be monitored with some skepticism. We remain concerned about the fragile state of the markets. We will be watching any pullback in terms of breadth and volume, as well as how indicators hold up.
As of 5:15 a.m. ET, the S&P 500 futures have dropped below 1,131. There will be some fear-selling and some new shorts that come into the market if stocks begin to correct. As a result, a few days of weakness would not be a surprise. How the market reacts near the levels shown below will be important. With the information we have in hand, we would be more inclined to reduce risk, rather than increase risk, in the short-term. Our preference would be to make no moves for a few days, but we will have to see what the market shows us.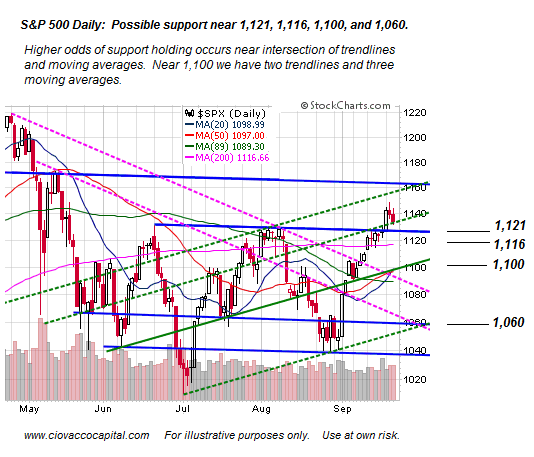 Even though we thought the markets could rally as of the end of August, we only added relatively conservative positions in the form of consumer staples, utilities, and bonds. If we see a correction soon, these assets should hold up better relative to the S&P 500. As we described in the contingency plans video, the markets have many moving parts currently and need to be monitored with an open mind.