It is only two days, but so far we like what we see in terms of progress in our CCM Market Risk Model. The bullish set-ups we covered after the close on Friday were leveraged by the bulls.
Many markets have held at logical levels of support. Unfortunately, most also have recently broken support overhead and not far away. The recently broken support may now act as resistance. The range between risk-on support and risk-on resistance is narrow.
The real battle to determine if the next move involves higher highs or lower lows will be fought between 1390 and 1403 on the S&P 500. The second battle, should we get there, will be staged below 1420 (see below).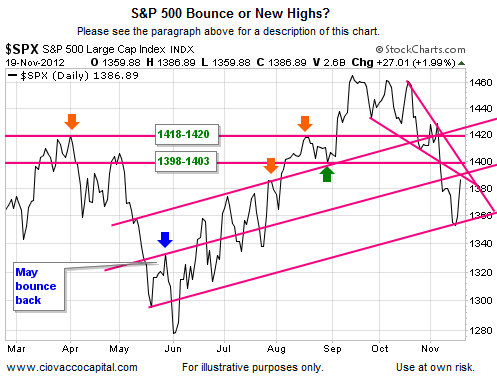 Today's gains cancelled many daily DeMark counts and left others intact. Like the narrow range between risk-on and risk-off, DeMark counts and indicators paint a market that is tentative and confused. That is what happens when the number one driver of assets prices is not earnings or the economy, but central banks and government bailouts. Manipulated markets create confusion relative to asset prices. Where would the S&P 500 be today if the Fed had not printed money at breakneck speeds? Where would bond prices and interest rates be without the Fed's never-ending intervention?
What turned the markets around? A favorable earnings report? Nope. A better than expected update in the economy? Wrong again. What flipped the binary switch from risk-off back to risk-on was a press conference on the fiscal cliff, which is a sad commentary on the state of our "free" markets. It is price action just like what we have seen in the last two days that inspired us to create the "faster" CCM risk-on vs. risk-off models in Q1. Thankfully, the new model is proving to be a valuable tool.