If the charts below can hold their breakouts into the close on Friday, another high probability profit opportunity may be taking shape. Our early morning review of the big picture also uncovered some potentially eye-popping targets from bullish head-and-shoulders patterns. All of these "set-ups" have multiple-week time frames. Therefore, even if the set-ups lead to profitable trades, countertrend rallies and pullbacks are always going to be part of the program.
The concepts in the chart below are easy to understand if you break them into smaller parts:
The downward-sloping blue trendline near point C acted as resistance 2011 (see red arrows).
A bullish breakout near point A was followed by a multi-month rally in stocks (see green arrow).
The bullish trend was confirmed at point D when the trendline acted as support for stocks.
The second downward-sloping trendline is parallel to the first (compare line near point A to the line near point B).
The bullish breakout near point B is similar to the one that occurred at point A, which gives the bulls an edge.
If the S&P 500 closes over 1,408 on Friday, it will represent a "breakout" since a higher high will be made relative to the weekly closing high in March 2012.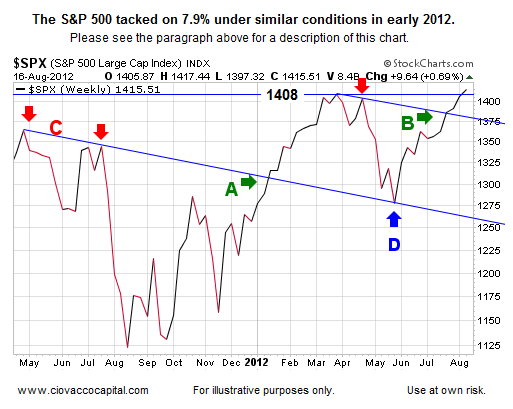 Global stocks are trying to complete a weekly bullish breakout from a symmetrical triangle pattern (see below). If the break holds, the probabilistic target is very encouraging from a profit potential standpoint.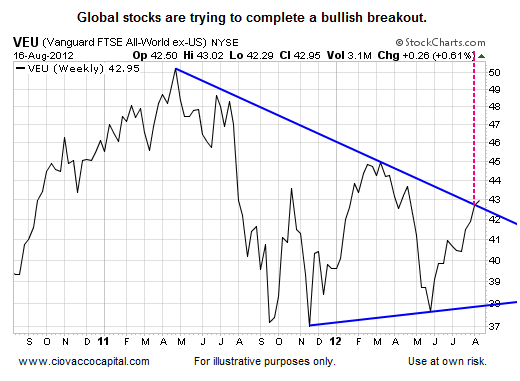 Keep in mind that (a) "set-ups" refer to probabilistic outlooks, and (b) the breakouts must hold into Friday's close (these are weekly charts).