In today's risk-on/risk-off world, sometimes you think your terminal is spitting out bad quotes. On Thursday, in a weak market, the S&P 500 moved from up 5 points to up 18 points in a matter of minutes. You can guess the reason for the radical reversal – a report of coordinated intervention from the money-printing experts (a.k.a. central banks). The chart below shows Thursday's session.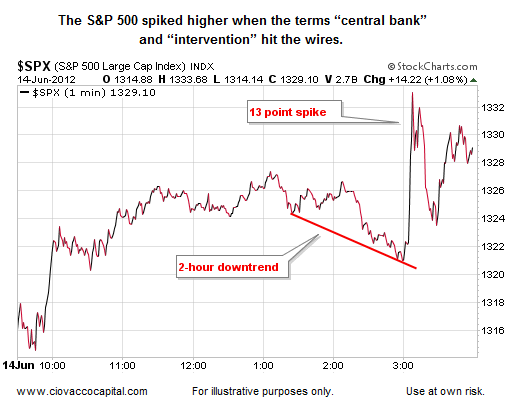 As of Thursday's close, the markets still looked weak, with the vast majority of risk ETFs not exceeding Monday's intraday high. However, that could change today with the global focus on more stimulus (deficit spending) and "liquidity" from central banks.
Between the close on Thursday and this morning, we compared all ETFs head-to-head (again). Based on our current rankings and given the fragile nature of the big picture, the best option to increase our exposure may be the S&P 100 Index (large caps). The S&P 100 ETF (OEF) holds companies such as Apple (AAPL), Exxon Mobil (XOM), IBM, Microsoft (MSFT), Chevron (CVX), GE, AT&T (T), Johnson & Johnson (JNJ), Wells Fargo (WFG), and P&G (PG).
Gold is trying to make a turn, which is not surprising given the talk of more "accommodative" policies. Based on what we know as of Thursday's close, we need to see more from the yellow metal and risk assets in general. Our short list of options contains fourteen ETFs.
The best way to sum up the still tentative nature of the markets may be to look at daily RSI (Relative Strength Index). Of the fourteen "best" ETFs that made the "short list", only seven of them closed Thursday with an RSI > 50. Fifty represents the bull/bear demarcation line for RSI, meaning half of the best ETFs remained in bearish RSI territory. Bear market or false-bottom rallies often see RSI reach 57 or 58 before prices turn down again.
We are open to adding to our risk exposure, but enter Friday's session with a realistic assessment of the market's less-than-inspiring profile. Markets love central bank intervention – so we will keep an open mind.