Prior to the Fed's June 22 statement, there were enough positive technical developments to justify a belief that Chairman Bernanke would give the markets a much needed push. The market wanted some signal the Fed is willing to implement some form of additional quantitative easing (QE) sooner rather than later. That is not what the market got.
We are not in favor of money printing/asset purchases/quantitative easing. However, if you are going to use QE as a policy tool, it should be done before asset prices start to plummet again. Why did QE2 come into play? Asset prices began to fall in the flash-crash correction of 2010. It looks as if the Fed is willing to wait for asset prices to fall again before taking additional policy steps. That means we must continue to err on the defensive side in the coming weeks.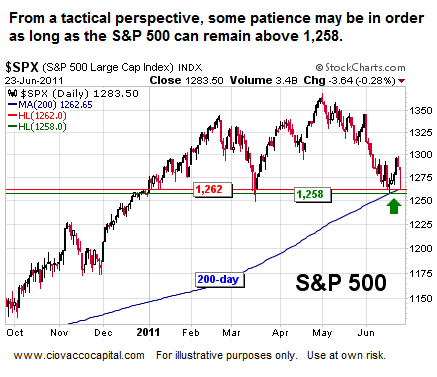 Market charts have looked concerning in recent weeks, but with some hope for a Fed-induced turn. Based on the their June 22 statement, the Fed-induced turn in stocks (SPY), precious metals (GLD), and commodities (DBC) is not in the cards for the short-term. We have not held silver (SLV) or copper (JJC) for some time. We still have a small position in a basket of commodities (DBC), which may be the next to go. For now, we will hold our relatively small position in gold, but even that is subject to review in the face of more deflationary-like markets.
Thinking a few moves ahead, the Fed did signal QE3 is a possibility if things get bad again. This means another Fed-induced rally in inflation-protection assets could be coming sometime in the next few months. Investors, who left the markets completely between May 2010 and August 2010, missed the QE2-induced rally off the summer lows. Given what we know today, the proper game plan may be to continue to add to our substantial cash position, but do so with the understanding the Fed may give us an excellent re-entry point in the not too distant future.
The Committee will regularly review the size and composition of its securities holdings and is prepared to adjust those holdings as appropriate…The Committee will monitor the economic outlook and financial developments and will act as needed to best foster maximum employment and price stability.
Will QE3 inflate the markets again if it comes into play? We think it will for at least a time, but it will most likely do so in a much more volatile/fits-and-starts manner. In a global economy dependent on balance sheets and stable/rising asset prices, the odds are extremely high that QE3, or some form of money printing, will impact the markets again in the coming months (see video). We will have to see how the markets react to hints on QE3 and allocate accordingly.
From Bloomberg's take on the Ben Bernanke press conference.
The Fed would be "prepared to take additional action, obviously, if conditions warranted," including the purchase of more Treasury securities, Bernanke said yesterday after U.S. central bankers met in Washington. The economy will probably overcome constraints from elevated energy prices and Japan- related disruptions to manufacturing, he said. Still, declining home prices, high unemployment and weaknesses in the financial system may restrain the recovery in the longer term, he said.