On Friday, July 22 the S&P 500 closed at 1,345 and this was the latest from the Washington Post on the debt situation in Washington:
President Obama and House Speaker John A. Boehner (R-Ohio) are close enough to a debt-deficit deal that Boehner told Republican lawmakers Friday that he hoped the deal would come together soon enough for the House to consider by Wednesday of next week, according to GOP staff who were in the room.
Three trading days later the S&P 500 has dropped to 1,306 and the latest from the Washington Post looks quite a bit worse:
At a meeting of GOP House members, the embattled Republican leader told his colleagues, many of whom had vowed to oppose his two-step bill to raise the debt limit that is expected to hit the floor as soon as Thursday, to "get your ass in line."
We did some selling today in the vast majority of our accounts. A debt deal looked to be in good order at the end of last week. Today, the possibility of missing the August 2 deadline is much greater. We are also seeing deterioration again on the weekly chart of the S&P 500 Index. If the weekly chart of the S&P 500 does not improve by week's end, we may take more defensive action depending on the situation in Congress. The two charts and table below illustrate the changes that have taken place in three trading sessions.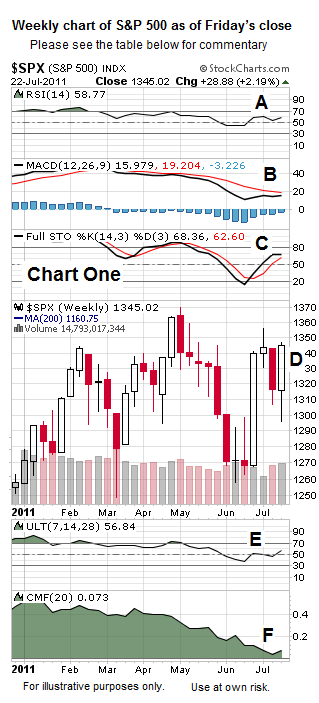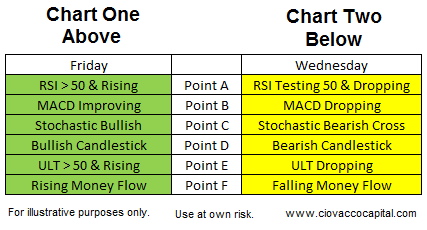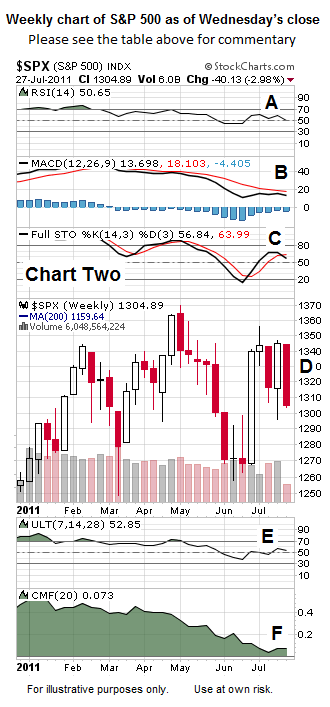 If some good news can come out of Washington, the chart above could improve by week's end, which is much more important that looking at it on a Wednesday night.