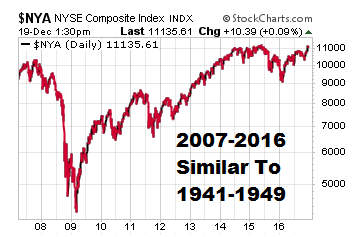 Another Bullish Voice
Given many of the charts we have presented over the past four months paint a favorable picture relative to the long-term outlook for stocks, it may be helpful to hear another voice.
In a note to Bank of America/Merrill Lynch (BOAML) clients on December 15, technical research analyst Stephen Suttmeier covered the longer-term bullish case for stocks. From Yahoo Finance:
"Given the post-Brexit capitulation on 'rates lower for longer' and the seismic shift to 'a rising rate environment,' the current secular bulltrend best fits the 1950-1966 secular bull market," Suttmeier writes.

"The 1950s was a period of higher stock prices and higher US interest rates. The US 10-year yield bottomed near 1.5% in late 1945 and the S&P 500 remained firmly within its secular bull market until yields moved to 5-6% in the mid 1960s. The S&P 500 rallied 460% over this period."

The concept of consolidation, one we have covered many times, is also highlighted by BOAML via the chart below.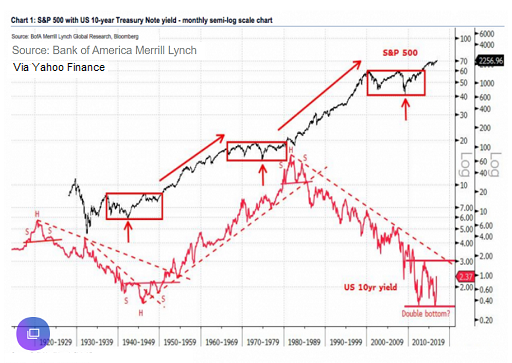 Is There A Strong Case For A 1987-Style Crash In 2016?
When stocks are making new all-time highs, many are wondering if the markets are setting themselves up for a repeat of Black Monday. On Monday, October 19, 1987, the Dow Jones Industrials plunged 22.61%.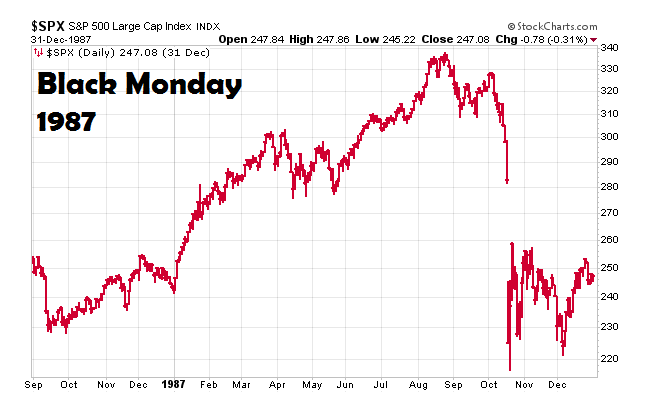 This week's stock market video addresses the following questions:
How does December 2016 compare to the period leading up to the 1987 stock market (VOO) crash?
Is the present day similar to the latter stages of the dot-com bubble (1998-2000)?
Does the present day look more like the high-risk periods noted above or more like outstanding buying opportunity periods, such as 1982 and 1994?
After you click play, use the button in the lower-right corner of the video player to view in full-screen mode. Hit Esc to exit full-screen mode.


Investment Implications – The Weight Of The Evidence
While shorter-term momentum has been waning in the stock market, the longer-term outlook, given what we know today, remains favorable. As long as that is the case, we will continue to hold our growth-oriented positions through the inevitable volatility that occurs even within the strongest trends. For example, during the 2013-2015 period marked by a strong bullish trend (see green box below), on 45% of the 600 trading days the S&P 500 posted negative returns. Markets are never easy.