Just as we "swapped" some OIH (oil services) for SLV (silver) earlier this week, today we took some profits in large-caps (IWB/SCHX). Our rationale was twofold:
We wanted to reduce risk since the S&P 500 is still hesitating at resistance between 1,403 and 1,415.
Even if large-caps (IWB) continue to post gains, better risk-reward opportunities can be found.
With the Fed hinting at QE3, we believe materials could provide some leadership if stocks are able to take another leg up. In short, we like materials better than large-caps from a risk-reward perspective.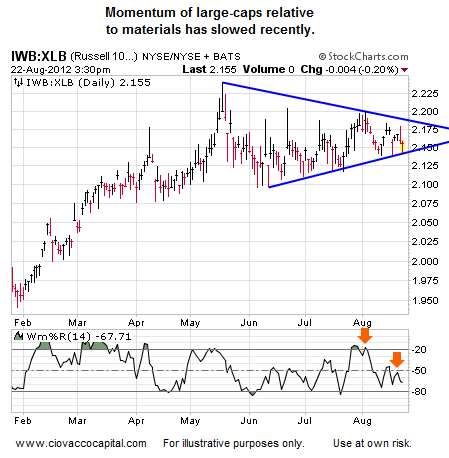 We did not take a stake in materials today. We want to make sure the markets react to the Fed's QE3 hints in a positive manner.
Silver treated us well after we decided to buy SLV yesterday. SLV was up 2% today. Gold (GLD) has cleared some key levels as well.