A Sign Of Complacency?
Markets have experienced very low volatility for the first five months of 2017. What does history tell us about low volatility markets that are also posting new highs?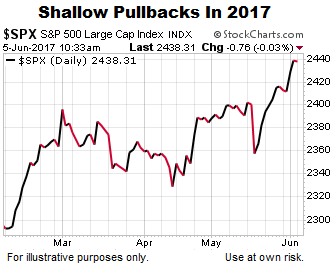 Typically, Very Good Things Happen
According to a research note by Sam Stovall of CFRA (via Urban Carmel):
"So far, 2017 has seen 17 new all-time closing highs for the S&P 500 and just 10 days where the index moved more than 1 percent in either direction. That kind of higher highs with low volatility always – yes, always – has been positive for the market, according to Sam Stovall, chief investment strategist at CFRA. The previous 17 times that has happened, the market has averaged a 19.4 percent gain, with advances happening 100 percent of the time."
Sector Says Be Open To Enormous Upside In Stocks
Does it seem like the markets have been extremely resilient in recent months? This week's video, which features some of the most interesting charts on Wall Street, provides some insight into the market's long-term potential.
After you click play, use the button in the lower-right corner of the video player to view in full-screen mode. Hit Esc to exit full-screen mode.


Big Picture Remains Solid
Trends reveal a lot about the never-ending battle between the conviction to own stocks and the conviction to sell stocks. When the market's net aggregate opinion flips to "conviction to sell", trends roll over as they did in 2000 and 2007. All the charts below show the S&P 500's 100, 200, and 300-day moving averages.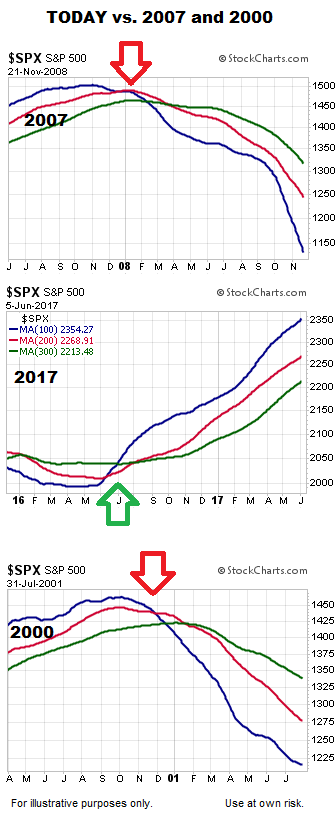 As outlined in detail on May 30, the present day market looks more like the early stages of a new long-term bullish trend rather than the early stages of a long-term bearish trend.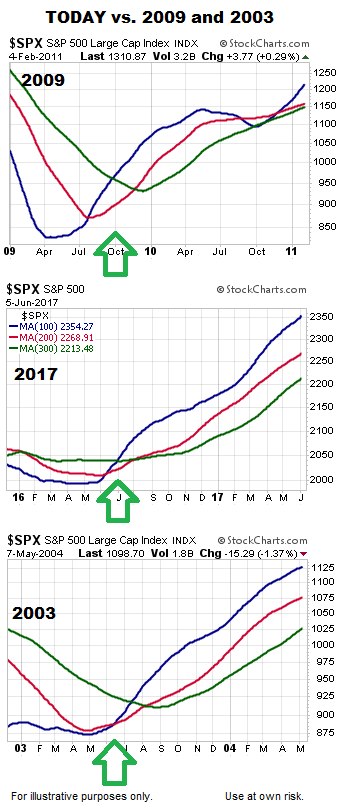 While it is possible the 2017 chart will morph into a more concerning look, the facts we have in hand continue to support a favorable long-term outlook for equities.