As of Friday morning at 7:30 EDT, we are close to "do or die" time for the bulls. This morning's low in the S&P 500 futures ($ES) is 1,394. Important support sits at 1,389. If stocks can hold near support, the door remains cracked for a push back above 1,464 and possibly even 1,474 on the S&P 500 cash index ($SPX). The key word in the prior sentence is IF.
Early Friday, European bonds are joining the ever-growing list of "be careful" asset classes. Rising bond yields means increasing fear related to future writedowns or defaults, which is deflationary. Central banks are trying to create positive inflation.
The chart below is an intraday chart, meaning the breakout above the blue line could be "erased" prior to the close. As the chart sits now, it is concerning for the "risk-on" crowd. A bullish trend change in Italian yields tends to be bearish for stocks and commodities. To flip from a bearish trend in yields to a bullish trend, step one is to break a downward-sloping trendline (see black line). Step two is a higher low (made below the blue line). Step three is a higher high (above the blue line).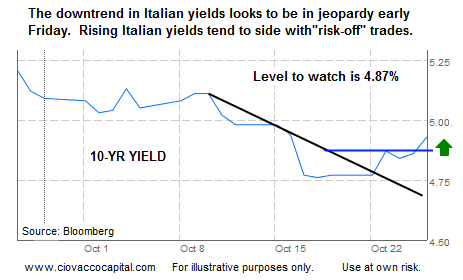 GDP is coming Friday at 8:30 EDT, which could alter the early bearish slant in risk markets.