A key risk-on relative to risk-off ratio is not yet calling for a dash for the safe-haven exits. As we noted on August 21, the recent important higher highs made in gold (GLD) and silver (SLV) signal:
Confidence that a turning point has been reached in the euro debt crisis.
An expectation that more intervention is coming from the Fed.
One effective method to monitor the health of stock market rallies is to evaluate the ratio of "risk-on" to "risk-off", or the performance of stocks (SPY) relative to intermediate-term Treasury bonds (IEF). When the ratio is rising, risk-on is in favor. When the ratio is falling, risk-off is carrying the day.
The chart below looks intimidating and busy, but if you review each portion in isolation the concepts are easy to follow.
Point A shows the S&P 500's peak in April 2012. Point B shows a warning flag for risk that was in place in the form of a lower high in the stock/bond ratio. Point C shows no such warning for stocks is present today, as the ratio recently made a higher high as stocks made a higher high. However, point C also shows the stock/bond ratio is near two forms of possible resistance. Should a multiple-day correction come in stocks, point D shows three areas of possible support near 1,380 on the S&P 500. The "cluster" of trendlines near point E highlights possible support for the stock/bond ratio. Should support at point E not hold, point F identifies the recent stock/bond ratio breakout level, which has acted as support and resistance several times in 2012; it may again act as support.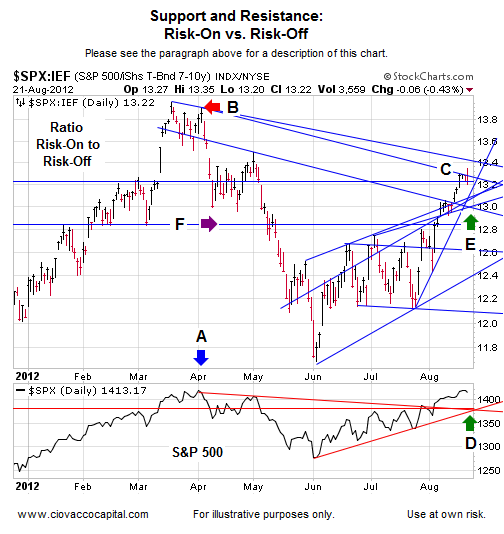 How does all this help us? As long as the stock/bond ratio continues to make a series of higher highs and higher lows, a bullish trend for "risk-on" will remain intact. If the ratio makes a lower high or lower low, it would send up a red flag for stocks. As long as the S&P 500 remains above 1,380, we should view any corrective activity as a normal pullback within the context of an ongoing bullish trend for stocks.
Having experienced some nice gains in our oil positions purchased in early July, we cut back a little on OIH and added silver (SLV), which appears to have a better risk-reward ratio looking out several weeks. We still favor risk-on, but respect the possible resistance near point C in the chart above. Maximum flexibility and open-mindedness is important after stocks have staged an impressive rally. We are not adverse to booking profits, or rotating to assets with more favorable risk-reward profiles, similar to the SLV for OIH swap we made on Tuesday.