We mentioned in one of our June videos (see CCM Channel) that some excellent bullish set-ups were forming. We also noted that it was a good time to invest cash. One of the bullish set-ups came on the chart of the India ETF (EPI).
India had some positive policy news today. EPI is up 3.4% on strong volume. We bought EPI in early June (see point A below). Depending on the client, we sold some or all of EPI shares today at point B, for a 14.0% gain.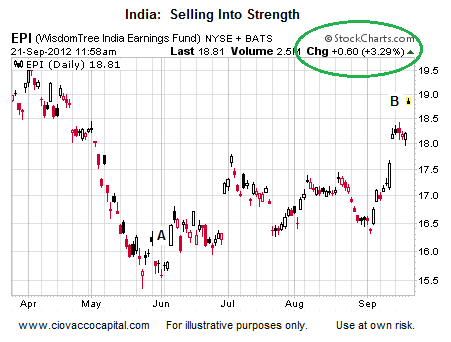 We have been taking some profits in recent weeks since the market's risk-reward profile is not as attractive as it was a few weeks or months back. Given what we know today, we believe any pullback will represent a buying opportunity, which means another possible entry point for cash.
If a pullback comes, we will keep an open mind, but our bias would be to "buy back in" at lower levels. The set-ups are in place for risk assets to possibly correct in the coming days. However, with money printing in Europe and the U.S., a bullish upside surprise remains a viable, but lower-probability, scenario.