Bad News is Good News
A preliminary survey found that China's manufacturing growth slowed in April. In addition to the weak data from China, Bloomberg reported:
Services and manufacturing shrank in the euro area for a 15th month in April, a report showed today, boosting speculation the European Central Bank will cut interest rates to spur growth.
Stocks Respond
Currently in 2013 (see chart below), price is above the 50-day moving average (in blue) and the slope of the 50-day is positive. This tells us the S&P 500's intermediate-term trend has sustained little damage to date. A good step for stock bears would be for the S&P 500 to close below its 50-day for more than one day. As noted below, stocks were on the ropes last week when the S&P 500 closed below its 50-day moving average. Since then, stocks have regained their footing.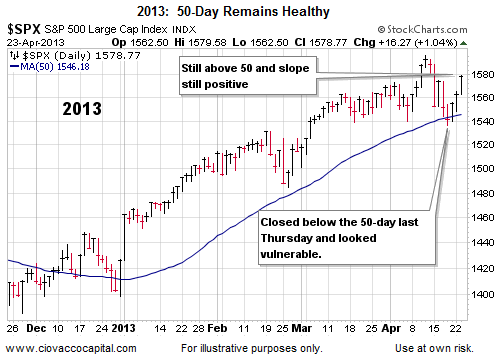 A good second step for the bears would be for the 50-day to roll over as it did in early May 2012 (see chart below). Until the 2013 chart looks more like early May 2012, the bulls get the benefit of the doubt. You can compare these charts side-by-side using this link.