As we mentioned on March 22, a case can be made for the S&P 500 Index reaching 1,400 to 1,440 sometime in 2011. Currently, the economy is growing, earnings are respectable, and the Fed continues to print money. However, a few significant concerns require a flexible approach to the markets:
Debt problems continue to plague Europe and the United States
The Fed is hinting at slowing down the printing presses.
The market's current advance is beginning from a somewhat extended technical state.
Monday morning brings more somewhat troubling news from Europe. Ireland said it wants the senior bondholders of banks to take a haircut in the form of loss sharing. According to Bloomberg:
Ireland's government wants "a sustainable and comprehensive solution that involves recapitalization, but also an element of burden sharing as well as a funding package for Irish banks," Coveneny told RTE in an interview yesterday. "A lot of delicate and difficult discussions are going to take place over next two to three weeks, if not slightly longer."
For those with short memories, last year's 'flash crash' correction occurred in part due to concerns about debt and the euro. Since January 11, 2011, risk investors have had a tailwind in the form of a weak U.S. Dollar. A debt scare in Europe could spark a rally in the U.S. Dollar, which all things being equal would be a negative for stocks and commodities.
As we outlined in detail on March 15, asset prices have been broadly impacted by the Fed's second quantitative easing program (QE2). The Fed seems to be posturing for ending QE2 either on June 30 as scheduled or at their April 26-27 meeting. It remains to be seen if the markets can stand on their own without the aid of the Fed's printing presses. According to a Bloomberg story, James Bullard, the St. Louis Federal Reserve Bank President, seems to be closing the door on any hope for QE3 (at least for now):
"The economy is looking pretty good," Bullard told reporters in Marseille, France, today. "It is still reasonable to review QE2 in the coming meetings, especially this April meeting, and see if we want to decide to finish the program or to stop a little bit short."

"We're far away from normal policy," Bullard said. "I think it's important to take a few steps back to normality. Even if you make a few small moves, monetary policy will still be accommodative for some time to come."

"If the economy is as strong as I think it is then I think it may be reasonable to send a signal to markets that we're going to start withdrawing our stimulus, and I'd start by pulling up a little bit short on the QE2 program," Bullard said. "We can't be as accommodative as we are today for too long, we'll create a lot of inflation if we do that."
Our third concern relates to the extended state of the markets when viewed on weekly and monthly charts. The CCM Bull Market Sustainability Index (BMSI) currently sits at 3,900, which tells us the current advance may be shorter in duration than the move off the November 2010 lows. Our 80-20 Correction Index paints a little more encouraging picture with risk-reward ratios for stocks being favorable relative to historical averages.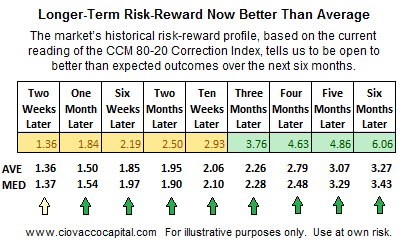 In terms of our investment approach, the market's recent extreme oversold condition gave us an opportunity to redeploy cash by adding to our positions in energy (XLE), materials (XLB), commodities (DBC), mid caps (IWP), values stocks (VTV), and industrials (VTI). Due to our concerns outlined above related to debt, the Fed, and an extended market, we must be willing to raise cash again in relatively short order if the current rally proves to be short-lived.