With the Fed due to issue a statement at 12:30 p.m. EDT and Ben Bernanke scheduled to meet with the press at 2:15 p.m., trading may be somewhat muted for a good part of the day. The deflationary debt problems in Europe will come to a head at some point according to a Bloomberg story:
Greece is "essentially bankrupt" and any attempts to solve its sovereign crisis with a new bailout will be like "kicking the can down the road," said Andrew Balls, Pacific Investment Management Co.'s head of European portfolio management.
In a separate story, Bloomberg reported that Greece is not the only pressing concern in Europe:
"The repair of the economy is incomplete and risks are considerable," the Washington-based IMF said in its annual appraisal of Spain yesterday. There must be "no let-up in the reform momentum" to bolster the recovery and reduce a 21 percent unemployment rate that is "unacceptably high," the fund said.
One of the reasons we have such a large cash position at the present time is the continuing weakness in the commodity markets.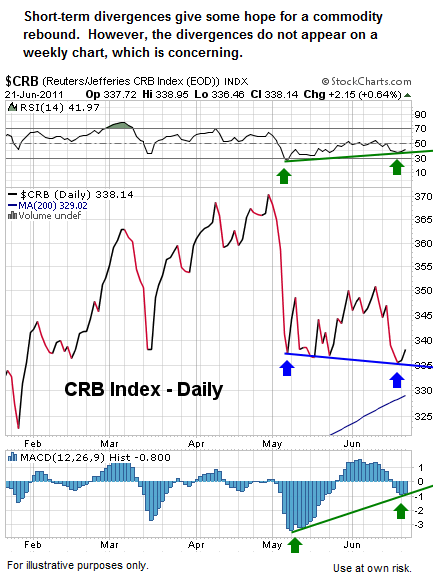 The Wall Street Journal made some comments previewing today's Fed announcement:
The market is looking for the Federal Reserve to maintain its balance sheet at $2.8 trillion, which is the level it will be at after the second round of quantitative easing is completed, Pawlicki said. "If the Fed maintains its balance sheet at these levels, the gold market will likely not look at it as a tightening." Wider supportive market conditions such as economic uncertainty in Europe, slower global growth and rising inflationary pressures have continued to underpin gold, which is considered a store of value in times of high inflation and currency volatility.