Over the past few weeks, we have mentioned in our videos that the stock market bears were in need of a catalyst. They may have gotten one today. From Bloomberg:
The euro-area recession deepened more than economists forecast with the worst performance in almost four years as its three biggest economies suffered slumping output. GDP fell 0.6 percent in the fourth quarter from the previous three months…That's the most since the first quarter of 2009 in the aftermath of the collapse of Lehman Brothers Holdings Inc. and exceeded the 0.4 percent median forecast of economists in a Bloomberg survey.
Correction Scenario
As we noted Wednesday:
Are we still concerned about the bigger picture? Yes, but until price, credit markets, trends, and intermarket relationships confirm or take advantage of bearish set-ups, the bulls will be in control… Nothing says the S&P 500 cannot continue to 1530, 1557, or 1575.
For illustrative purposes, let's assume the news from Europe is the catalyst needed to kick-off a corrective process in stocks. Regardless of whether that corrective process begins today or in three weeks, the comments below still apply in general terms.
Should a correction unfold, we remain very well positioned. Even after taking a small position in EFA Wednesday, we are still maintaining a very large cash position (neighborhood of 80-88%). This means 80 to 88% of our accounts are in correction-friendly mode. Our current allocation can be thought of this way; what percentage of the big picture points to more upside? Roughly 15%. What percentage of the big picture are you still concerned about? Roughly 85%.
Protecting Capital
A pullback would be very good for us. It would allow us to redeploy the profits we booked over the last three weeks at more advantageous risk-reward levels. Market momentum has been strong, meaning it may take some time for a corrective process to unfold.
Shifting back to the relatively small EFA position, a few good axioms related to money management:
Always know where you will get out of a position if it goes against you.
After you buy, if the market does not respond as anticipated, that is a bad sign.
If you feel uncomfortable with a position, get rid of it.
Given the big economic miss in Europe this morning, there is a chance EFA will not "respond as anticipated". One of the hardest things to do in the markets is to acknowledge you may have a bad entry point. The proper way to manage a bad entry point is to get out of the position quickly (or scale out), before it does significant harm to your capital.
Are Conditions Still In Place?
Another good risk management tactic is to ask yourself, "Why did I get into this position and do those conditions still exist or have they changed?" There were numerous daily indicators for EFA that were turning up in a bullish manner, but to illustrative the point, let's focus on one factor – moving averages. In Tuesday's Short Takes, we noted:
On a positive note, EFA closed above the often-watched 8, 10, and 21-day moving averages Tuesday, which may bring further interest from traders.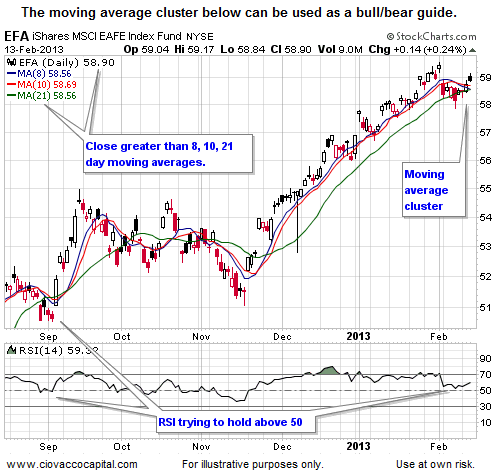 If a close above these moving averages can attract buyers, it is reasonable that a close below these moving averages can attract sellers. Therefore, as long as EFA stays above the 8, 10, and 21 day moving averages, the downside risk is somewhat limited.
Should EFA trade below the moving averages intraday or close below them, then one of the bullish factors for owning the position will no longer be in place. When conditions change, it is important that we push our egos aside and acknowledge the "new" conditions.
Given the extended nature of the markets, it makes sense to give any position a short rope. When the markets are breaking out of a two-month base (making a bottom), you can give new positions more freedom to move against you. One hypothetical example of how EFA might be managed should a correction unfold is as follows:
If EFA trades below the 8, 10, & 21-day moving averages intraday, sell 50% of the position.
If EFA closes below the 8, 10, & 21-day moving averages, sell the remaining 50%.
If EFA holds above the moving averages, leave it alone.
It is early Thursday (well before the open) – we have no idea how the markets will behave today. We do know our game plan under both bullish and bearish conditions. We will execute the plan without hesitation.