The $SPX/IEF chart shown here was analyzed extensively in Sunday night's video. Until the S&P 500 clearly takes out the 1,405 to 1,415 range, we will watch with a skeptical eye. Below is an updated version of a chart we first presented on August 22, along with the original description of points A through F:
Point A shows the S&P 500's peak in April 2012. Point B shows a warning flag for risk that was in place in the form of a lower high in the stock/bond ratio. Point C shows no such warning for stocks is present today, as the ratio recently made a higher high as stocks made a higher high. However, point C also shows the stock/bond ratio is near two forms of possible resistance. Should a multiple-day correction come in stocks, point D shows three areas of possible support near 1,380 on the S&P 500. The "cluster" of trendlines near point E highlights possible support for the stock/bond ratio. Should support at point E not hold, point F identifies the recent stock/bond ratio breakout level, which has acted as support and resistance several times in 2012; it may again act as support.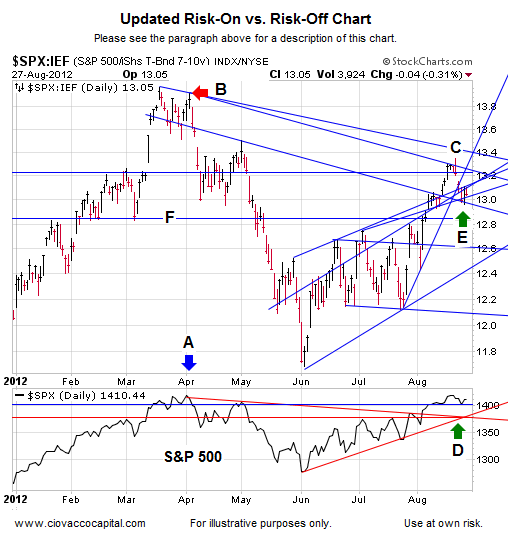 From a bullish perspective, risk-on support has held thus far at point E above. Point F is in play as well. Today is a projected "low" date if you monitor five-week market cycles. If a bullish reversal were to occur based on the five-week cycle, it could come anytime in the next few days.