On Friday, the Democrats and Republicans made a joint and civil statement to the press following a brief meeting on the fiscal cliff. It signaled to the markets they are trying to begin this round of talks in a more professional manner, which was not the case in 2011. Therefore, something changed today…it was a step in the right direction. After the rare show of political civility, the tone of the markets improved immediately. The S&P 500 rallied to close 16 points off the session low.
Like Tech, But Need More Than One Day Wonder
On September 10, we sold our technology stake in XLK noting "tech stocks look tired". Since then, XLK has dropped 12%. Is it time to buy back in at lower levels? After the fiscal cliff press briefing, we did see some improvement on many fronts, but not enough to justify making any changes (yet).
We had orders ready on Friday to buy the NASDAQ QQQ ETF, but it closed just below resistance on short-term charts. For example, resistance on a 15-minute chart sits at 62.49 with support coming in at 61.06. QQQ closed at 62.30, or 0.3% below resistance and 2.0% above support. It makes sense to see if the nearby resistance is cleared vs. risking a 2.0% drop out of the gate. DeMark counts for QQQ also told us to exercise some additional patience with our large cash position.
Charts Mixed, But Improved
Since warning of slowing stock momentum on September 24, we have seen little to get us interested again in stocks. Friday was better. On the charts, let's start with the good news; the S&P 500 found buyers at a logical level (see green arrow below).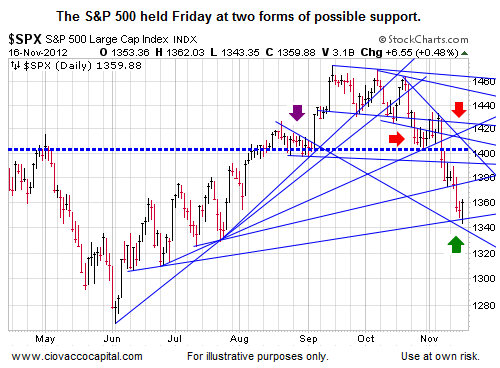 A Rally…Then A Lower Low?
Based on numerous factors, we can envision a countertrend rally back toward the 1388-1448 range on the S&P 500. A similar A-B-C rally took place in May 2012. The rally began at point A, moved to point B, and then made a lower low at point C (see below). Markets often have symmetry and a move toward point B on the right is certainly one possible scenario for the next week or so. Keep in mind, point C would represent a low lower than Friday's low of 1359. A good next step is to clear resistance near the pink line below, which sits at 1362 on the S&P 500.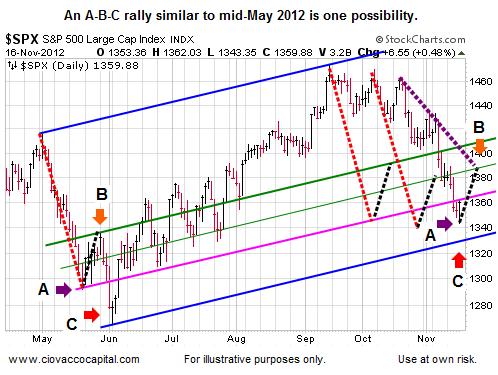 Resistance Still Overhead
Another scenario is the S&P 500 holding below the downward-sloping trendline from the April and May highs (see red arrows). Stocks broke above the same trendline in August (see breakout below). Now the trendline may act as resistance; it sits near 1370 on the S&P 500.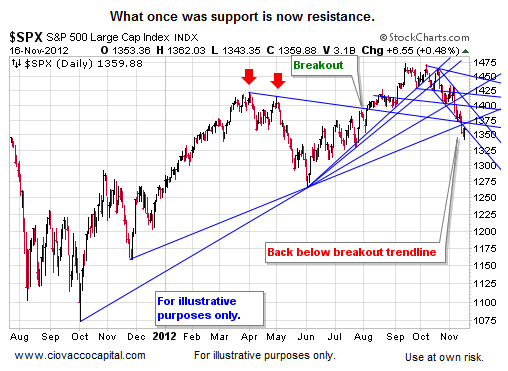 Not Just Cliff…Europe Still A Problem
The biggest obstacle to a rally may be Europe. There is talk of another round of "haircuts" for holders of Greek debt, which sides with the "risk-off" camp. The German DAX is clearly in a downtrend and has broken some key support levels (see orange arrow).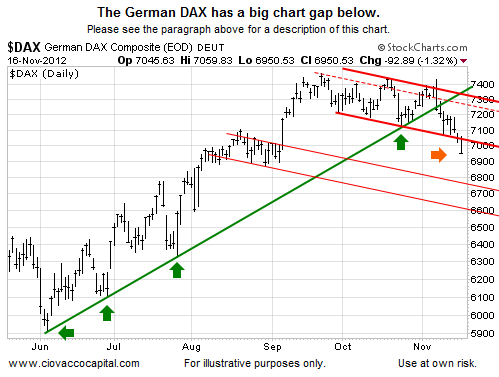 You may say, "I don't care about German stocks". As shown below, the S&P 500 has a very high correlation to the problems in Europe. Therefore, we need to keep an eye on Europe.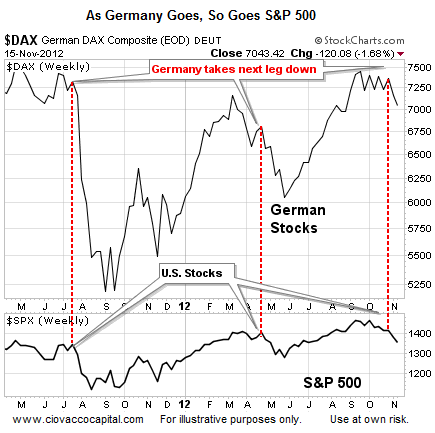 Stage Not Set Yet For June-Like Low
A multi-day bounce could occur next week, but we need to see some follow-through gains on Monday. Unfortunately, based on numerous factors, including DeMark counts:
Lower lows remain probable.
Even if a low has been made, a move toward 1440-to-1450ish would be met with more obstacles.
Friday was a good day on the fiscal cliff front, but Bloomberg reported a more realistic view of what lies ahead:
"We expect a complex negotiation process that takes many months and multiple brinkmanship moments before full resolution of the cliff," a team led by Ethan S. Harris and Gustavo Reis, New York-based economists at Bank of America Corp., wrote in a report published today. "Given its fragile economic backdrop, Europe has much to fear from the U.S. fiscal cliff."