One of the most reliable weekly indicators is flashing bullish signals on the weekly charts of the NASDAQ, S&P 500, Dow, EAFE Index (foreign stocks), and Emerging Markets Index. If the S&P 500 can clear resistance between 1,403 and 1,415, then a multi-month bullish move may have already started. If resistance holds below 1,415, a multi-week correction would most likely represent a buying opportunity.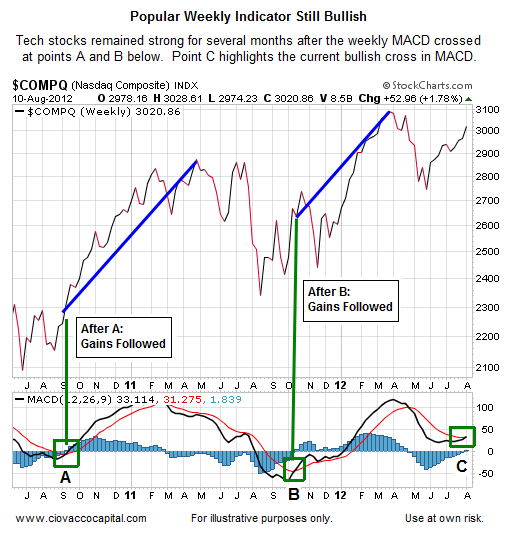 On July 31, we pointed out numerous bullish MACD signals on weekly charts. It is a good sign that the signals have held in place over the past two weeks. A bullish MACD cross occurs when the black MACD line moves above the red line. According to Dr. Alexander Elder in Trading For A Living:
MACD crossovers identify shifts in the balance of power between the bulls and the bears. When the black MACD line rises above the red MACD line, it shows that the bulls dominate the market, and it is better to trade from the long side. When the black line moves above the red line, it gives a buy signal.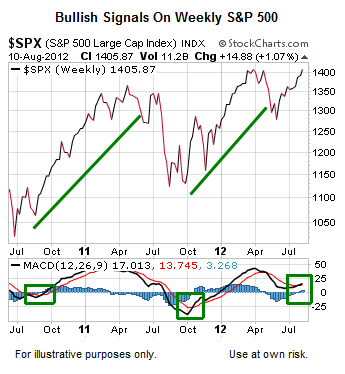 From Stockcharts.com:
The Moving Average Convergence-Divergence (MACD) indicator is one of the simplest and most effective momentum indicators available. MACD offers the best of both worlds: trend following and momentum.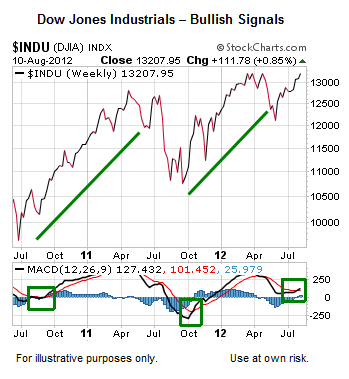 As shown via the weekly charts below, major indexes across the globe have experienced bullish MACD crosses on their weekly charts.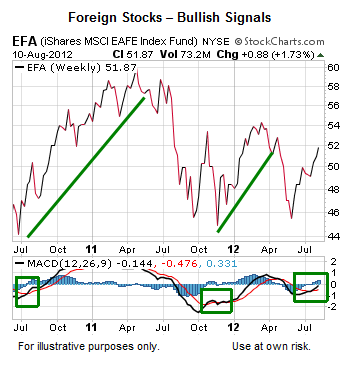 Emerging Markets have been laggards in recent months. The MACD cross below shows broad participation during the current bullish push higher.