We took an incremental step away from risk today. The step was relatively small since the S&P 500 has somewhat of a mixed picture:
Cons:
In DeMark speak the S&P 500 confirmed or "qualified" a bearish break of TDST level 1,365 today with a lower open. An exhaustion setup signal could come as early as Tuesday (known as a "9 up"), which means weakness could persist for at least four more trading days.
The pink trendline that we first showed on May 7 was broken today on a closing basis (near green arrow).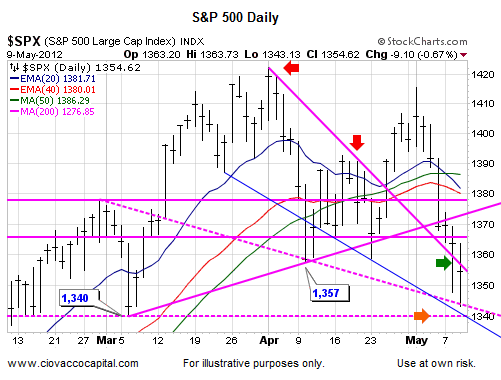 One of the charts we highlighted earlier in the week closed today with an RSI less than 50. RSI closed at 48.95 on the SPY/IEF weekly chart. The chart is explained beginning at the 8:17 mark of the May 7 video below. The RSI reading below 50 becomes more meaningful if it carries into the weekend.
After you click play, use the button in the lower-right corner of the video player to view in full-screen mode. Hit Esc to exit full-screen mode.

In the chart below, trendlines A and B have been broken. The green arrows near point C show where the S&P 500 held twice near 1,360. On Wednesday, we closed below 1,360 (point D).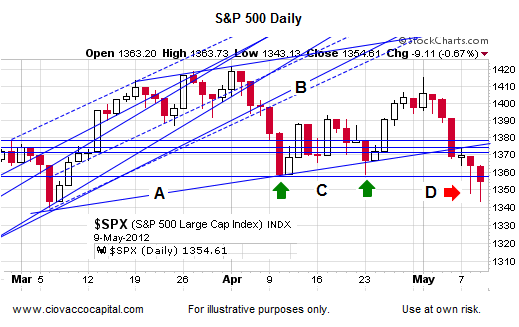 Pros:
Despite what feels like perpetual weakness, the S&P 500 is only down 1.06% for the week, as of Wednesday's close. Buyers have stepped in at 1,347 (Tuesday) and 1,343 (Wednesday).
The short-term bullish divergences we showed on May 8 are still in play (slopes of A, B, & C below). The S&P 500's 100-day moving average, a potential form of support, sits at 1,346 (see thin blue line near point D below).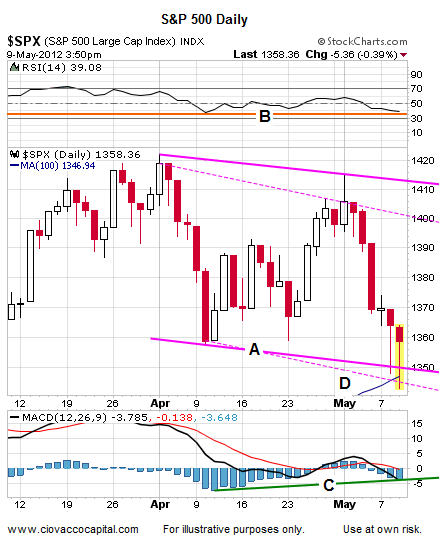 In the chart below, the trendline above point A may offer support, which calls for a little patience.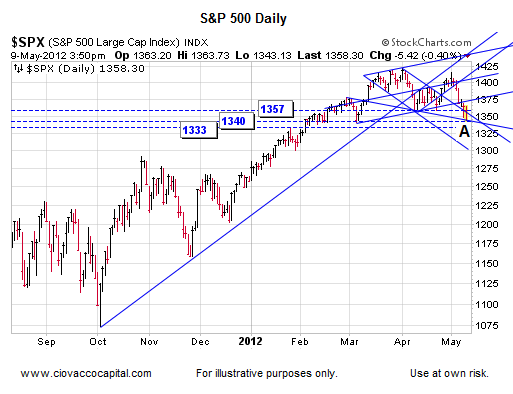 The weekly chart of the S&P has possible support via the trendline above the purple arrow. The red, blue, and green arrows show how this trendline interacted with price. The thin pink line is the 22-week moving average, which may attract buyers near 1,344.