Europe continues to try to patch up the mess known as their banking system. From Bloomberg:
European governments will jump-start as much as 100 billion euros ($123 billion) in emergency loans to shore up Spain's banks and may move the costs off the Spanish government's balance sheet to shield the euro region's fourth- largest economy from the debt crisis.
On Monday, the Fed made sure the word got out that QE3 remains a possibility. From MarketWatch:
A trio of influential Federal Reserve officials on Monday sounded the alarm on the economy, and suggested that the central bank is close to starting another round of asset purchases (QE3).
The S&P 500 has thus far held the gains inside the green box below. Price is trying to consolidate near the 61.8% and 50.0% retracements levels based on the move from point A to point B. A break below 1,345 could bring 1,330 relatively quickly. On the bullish end of the spectrum, a break above 1,355/1,360 could bring 1,372 in a fairly rapid manner.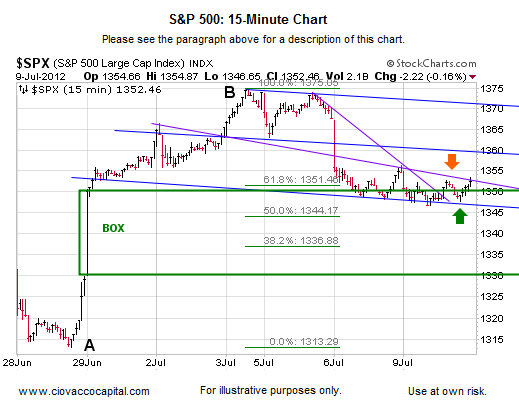 The short-term picture is mixed with a bearish slant. The intermediate-term picture still has an upward bias as outlined in Sunday's video.