We removed all our hedges today, selling VXX and PSQ at 10:00 AM EDT (before VXX really tanked) and the remaining hedges at the close. The market's dynamic may shift back to risk-off after Friday morning's employment number, but the odds favor at least a few more days of upside in stocks. Many of our long positions did well today: XME up 3.8%, FXI up 2.6%, PIN up 2.2%, EPI up 1.9%, XLB up 2.0%, IYT up 1.52%, AAXJ up 1.81%. The S&P 500 gained 1.0%.
One of the reasons for removing our downside protection was based on the risk-off vs. risk-on chart below. It shows the ratio of bonds (IEF) to stocks (S&P 500). When the ratio is moving higher, risk-off is in favor. The last two times the downward-sloping blue trendline turned back the ratio (see R1 and R2) gains in the S&P 500 followed (see points A and B).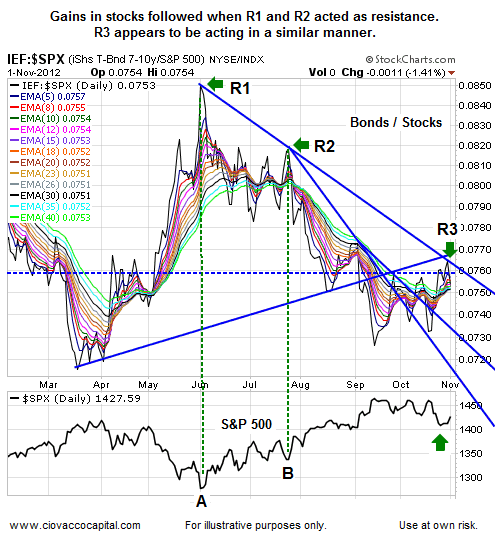 Nothing says the pattern above has to hold into Friday, but our primary reason for hedging our portfolios was to protect against a steep drop which could have followed a break of 1,400. With the S&P 500 closing at 1,427 today, support appears to have held, at least for now. What happens near R3 remains important. If a weak employment report causes the ratio to break out to the upside, it would be a big win for stock market bears. As of Thursday's close, the stock bulls regained the upper hand. We will enter Friday's session with an open mind and maximum flexibility.