Nothing dramatic occurred on Tuesday in terms of changes to our market models. The Bull Market Sustainability Index (BMSI) did pop back into the low end of "healthy" territory, which makes us more open to redeploying cash. The other models (MRM, 80-20) remain in neutral territory. The classifications are updated automatically each day based on the current readings relative to historical readings.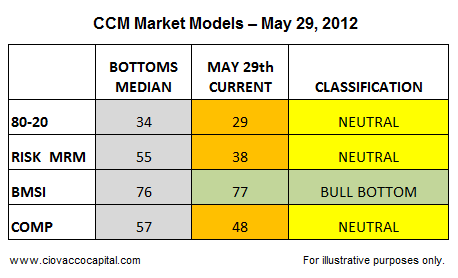 Our current allocation remains in line with the recommended allocation, but that may not be the case if we get some bullish follow-through this week. Even if we rally, based on what we know today, the door remains open to lower lows sometime in the next few weeks. We may be in a bottoming process, which implies it could take some time.
As a point of reference, we have not yet seen a bullish MACD cross on the daily or weekly chart of the S&P 500. If we are to see a sustained rally both would have to see "black over red" on MACD.