All the details of Thursday morning's bond auctions in Italy can be summed up via the yield on 10-year Italian bonds. Despite what some are terming a "successful" bond auction, the yield on the 10-year is rising today; it sits above 7%. The significance of rising yields in Italy is explained at the 13:30 mark of this December 18 video.
Falling in line with Italian bonds, the euro is making new lows again on Thursday morning. As we mentioned Wednesday, we plan to exercise some patience with all positions until we see if the euro continues to drift lower. A good line in the sand is 127.07 on the euro ETF (FXE); a drop below that level would move us closer to deflationary/bearish posturing in the short-to-intermediate-term. If FXE holds above 127.07 and can retake 130.29, we would become more bullish on stocks and bearish on the U.S. dollar (UUP).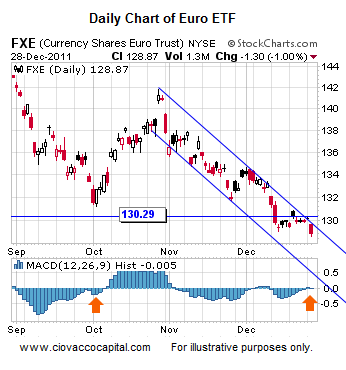 In the daily chart above, notice the MACD histogram shows a somewhat tepid move lower, similar to the period near the October low in the euro. We are not bullish on the euro, but we want to see how things play out over the coming days. It would not be surprising to see the euro experience a big move, up or down, in the coming weeks.