With the Fed's near promise to implement the second round of quantitative easing, stocks, commodities, and precious metals have experienced sharp rallies relative to the July 2010 lows. The rallies have occurred despite questionable fundamentals, especially related to employment and housing. The Fed's plan to devalue the U.S. dollar has helped spark rallies in gold, silver, copper, stocks, and commodity-related currencies, such as the Australian and Canadian dollars. If the U.S. dollar were to stage a countertrend rally, then risk assets may experience corrections from their recent overbought states.
The odds of a rally increase when oversold markets are near long and short-term areas of possible support. The fundamental outlook for the dollar long-term remains bearish, so any gains in the dollar may be short-lived or may not materialize at all. Our concern is that the risk-reward profiles for many inflation-friendly assets have become much less favorable in recent days, especially after near vertical moves in gold and silver. Further gains in stocks and commodities may be short-lived until we see some type of corrective activity or consolidation.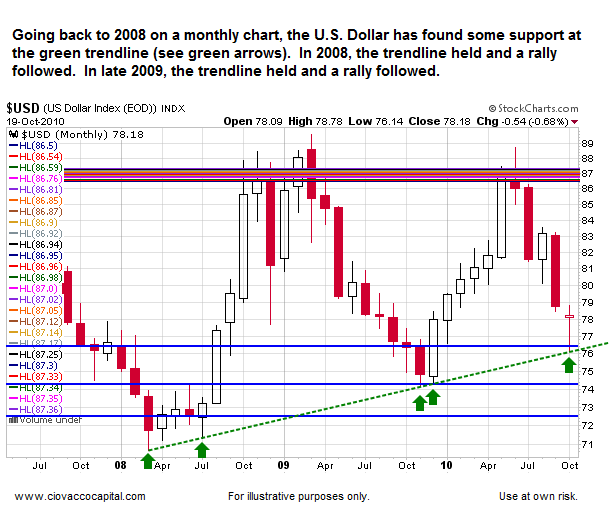 Some of our short-term concerns about the U.S. dollar are outlined in the chart below. We also mentioned record negative sentiment toward the greenback on October 11th. Extreme bearish sentiment can be a contrary indicator, which means conditions have been ripe for a countertrend rally in the U.S. Dollar.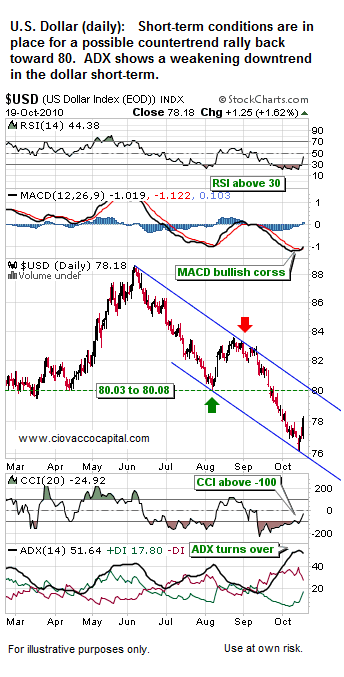 Since the U.S Dollar Index has a 57% weighting to the euro, a drop in the euro could help fuel a rally in the dollar. The short-term outlook of the euro is questionable at the moment.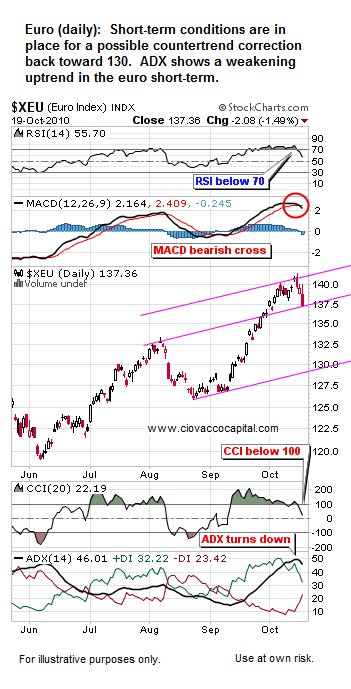 We have made comments today and shown charts concerning the possibility of corrections stocks, gold, silver, and copper as it relates to the U.S. dollar and euro.