Similar to Italian bonds, the yield on 10-year Spanish bonds has moved back into troublesome territory. If yields continue to spike and policymakers fail to take action, we could be moving closer to another meltdown period.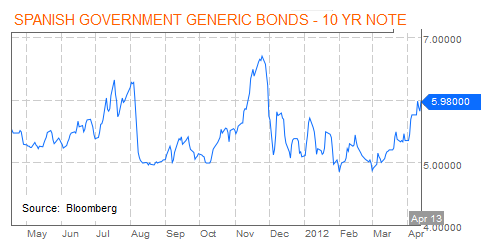 It is too early to become overly concerned, but not too early to pay close attention. From Bloomberg:
The euro declined to a one-month low against the dollar before Spain auctions bills and bonds amid concern Europe's debt crisis will continue. The 17-nation currency slid to its weakest versus the British pound since September 2010 after the cost of protecting Spain's debt from nonpayment climbed to a record.

"The euro does look like it's vulnerable to breaking down a lot further in the short term," said Imre Speizer, a strategist in Auckland at Westpac Banking Corp. (WBC), Australia's second-largest lender. "If Spain's yields continue to rise, then they're going to get to a point where they may well need some form of assistance, as Greece did."

Five-year credit-default swaps linked to Spain's bonds jumped to 502.5 basis points at the end of last week, the highest on record going back to October 2004, according to data from CME Group Inc.'s CMA. The swap premiums rise when investors' perception of creditworthiness deteriorates.

"After three months that were calmer than expected, the euro crisis is back," said Holger Schmieding, chief economist at Berenberg Bank in London. "The speed of the recent surge in yields has elements of a renewed market panic."
Spain's 10-year bond yield climbed 19 basis points last week to 5.98 percent, while similar-maturity Italian yields increased seven basis points to 5.52 percent. The euro retreated against the U.S. dollar April 13, falling 0.8 percent to $1.3078, bringing the decline since Feb. 28 to 2.4 percent.