Last week we noted Spanish bond yields and stock market momentum were still raising caution flags for risk assets. On Friday, stock momentum cleared an important level, but European yields are still headed in the wrong direction. The yield on a ten-year Spanish bond sits at 7.25%, which is something policymakers cannot and will not ignore. We can expect more bailouts and central bank action this week.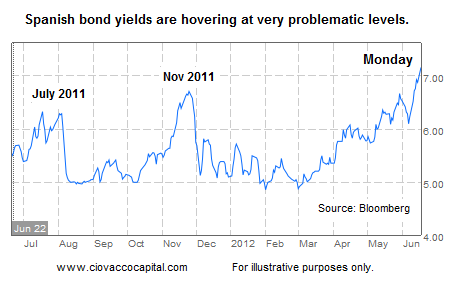 The Fed has a policy announcement Wednesday. The market is leaning toward an extension of Operation Twist, another in a long series of bond-buying programs.
Williams %R, a measure of momentum, closed last week at -51.11 on the S&P 500's weekly chart, which is indicative of a bottoming process.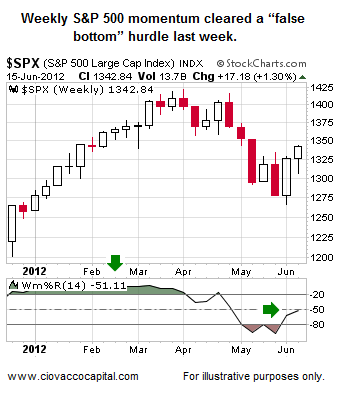 We showed the chart below on June 13. Williams %R (above) has now cleared both -56.86 and -53.92, which means we should be more open to a sustainable rally in risk assets. On subsequent weakness, we would like to see Wm %R remain above -62.
The text below was originally posted on June 13 - it explains the possible significance of Wm %R closing above -53 last week:
The noisy weekly chart of the S&P 500 below is easy to understand if you look at each piece in isolation. The top portion shows the stock market. The bottom portion shows a momentum indicator, Williams %R (Wm %R). The colored arrows are described in detail below the chart.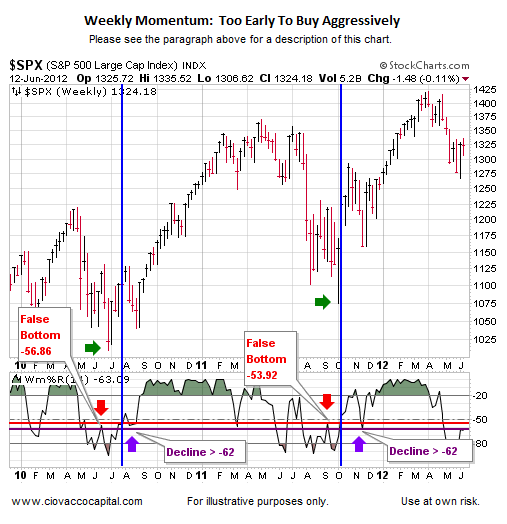 The green arrows show stock market bottoms, or buying opportunities, in 2010 and 2011.
The red arrows show "it's too early to buy aggressively" signals from Wm %R. In 2010, Wm %R reached -56.86 on a false rally; in 2011 it reached -53.92. That tells us to be careful until Wm %R can close above -53.92 on a weekly basis.
The purple arrows show "confirmation" that a bottom is in place. On the subsequent decline in stock prices, Wm %R stayed above -62, which was indicative of slowing downside momentum in stock prices. Significant gains in stock prices followed.
The charts we presented on Friday afternoon and the video from Sunday night also align with a possible bottoming process. As noted in the past, "process" implies time may be needed before a rally can take hold.