We reviewed numerous markets today. There are some reasons to be optimistic on the euro. There are some reasons to be pessimistic relative to Treasuries and the U.S. dollar, which leans bullish for risk.
Below is an updated version of the chart reviewed at the 3:15 mark of the video in a May 23 article. Intraday on Wednesday, VEU was clearly below the pink trendline (not shown - chart shows closing price only). The late day rally pushed VEU back above the trendline. Today's strong finish, along with the market action over the last three days, suggests we should head into tomorrow's session with a shopping list. If we throw the list away due to weakness, so be it.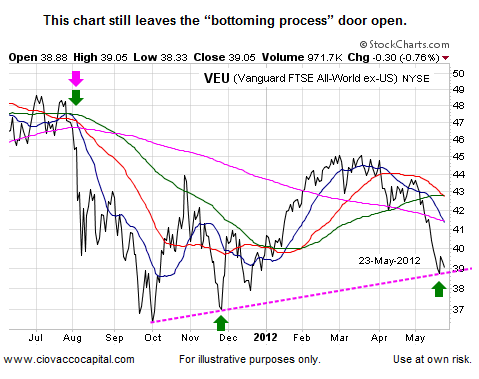 The S&P 500 remains over 100 points below the April 2 high. We remain near and above the 200-day moving average. Our comments from earlier today still apply:
The point for U.S. investors is the path overseas seems to be gravitating toward two somewhat binary outcomes over the next two to three weeks.

A bottoming process similar to what the S&P 500 experienced in October 2011 or
An acceleration of declines similar to what global markets experienced in June 2008.
There is no question the elements are in place for an attempt at a bottoming process. We should learn a great deal about whether the next move is toward 1,400 or 1,200 relatively soon.