The weekly chart of the S&P 500 below covers the period from October 2007 to December 2008. The green arrows indicate areas where stocks found interest from buyers near 1,291. The red arrows show areas where sellers became interested near 1,291.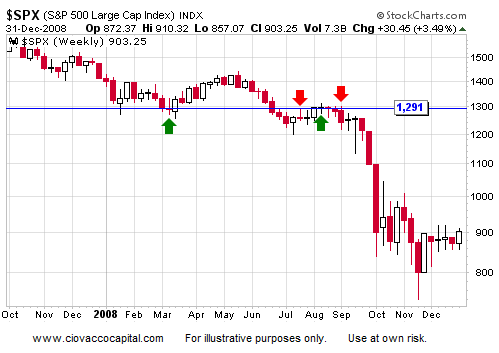 Fast forward to the present day to the weekly chart of the S&P 500 and we see 1,291 appears to be an important level, or general area, for market participants. How important remains to be seen.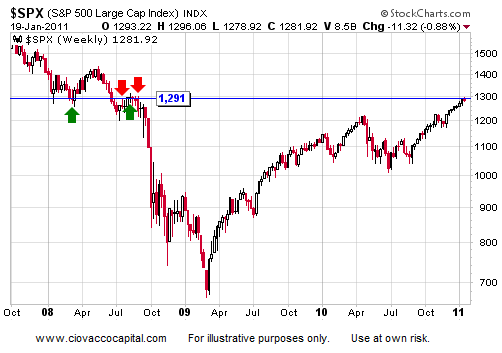 Sentiment (see analysis) and the impressive, and almost uninterrupted, move in risk assets off the summer lows, tell us some type of corrective activity is probably coming in the not too distant future.
We plan to review our holdings today. It may make sense to sell some of our less attractive positions while markets remain close to their recent highs. When a correction hits, we believe it will be followed by higher highs, based on what we know today. Corrections in 2009 (shown below) were common and allowed risk assets to find some renewed interest from buyers – notice new highs were made following all the pullbacks.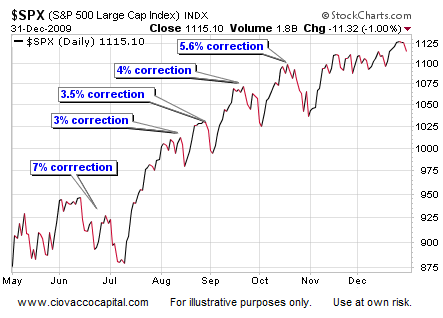 The monthly chart of the CRB Index (basket of commodities) still looks good from a long-term perspective, but some resistance from 2008 comes in near 337; the recent high in 2011 was 336.22. The resistance near 337 is visible on a candlestick chart (not shown).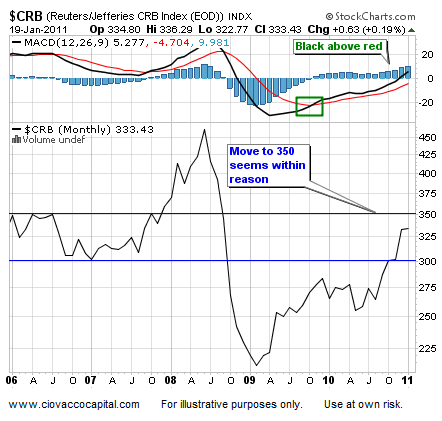 On January 11th, we mentioned the odds seem to favor gold moving higher, but the short-term outlook was uncertain with a move back toward 1,320 within the realm of reason. Gold remains weak as shown in the chart below as of Wednesday's close. A move back toward point F is still a possibility; the concern is the orange trend channel has a negative slope, which is not what we want to see from a bullish perspective. It would be more encouraging if gold can hold above the upward-sloping pink trendline.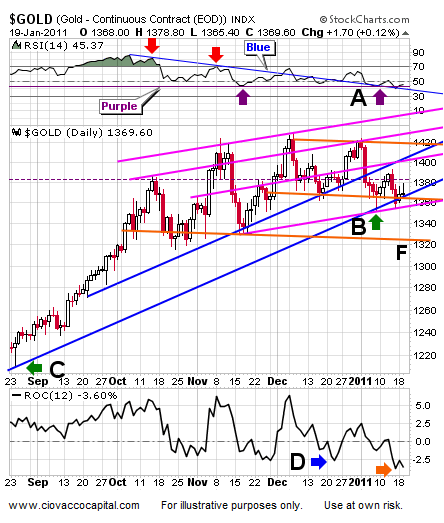 A break below the blue and purple RSI trends, near point A, would add to the short-term concerns related to the yellow metal. The Rate of Change (ROC at bottom) has been relatively weak since its mid-October 2010 high. We like gold long-term, but concerns remain in the short-to-intermediate term.