From a fundamental perspective, gold and silver continue to look attractive as alternatives to paper currencies. From Bloomberg on the ongoing situation in Europe:
Investors' no-confidence vote in the aid package for Ireland may force European policy makers to expand their arsenal to fight the debt crisis threatening to tear the euro apart. Options outlined by economists at Societe Generale SA and Barclays Capital include: Boosting the 750 billion-euro ($975 billion) temporary rescue fund or turning it into an asset- buying program; cutting interest rates on bailout loans; issuing joint bonds for the 16 euro nations or flooding the economy with cash from the European Central Bank. (Full Story).

As of the November 30th close, the chart of gold appeared to be moving toward an improving outlook from a risk-reward perspective. Here are a few things that have already happened which lean toward the bulls: (1) at level B, gold held near a logical retracement level watched by traders, (2) point C highlights three successive higher lows in the price of gold, and (3) point D shows a higher high was made on November 30th.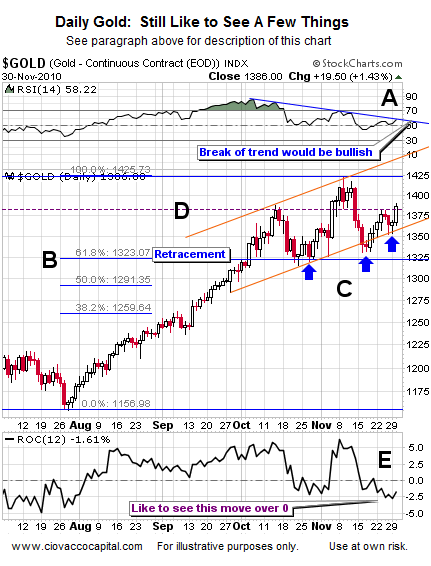 Here are a few things that have not happened yet, but may happen relatively soon, that would improve the outlook for gold: (1) near point A, if RSI can break above the thin blue trendline, it may be a precursor to higher prices, and (2) near point E above, we would like to see the Rate of Change on a daily chart cross above the zero line.
We are better off looking at investments with healthy daily and weekly charts. Gold's weekly chart aligns well with higher highs sometime in the coming months. A tick back up of the MACD Histogram (light blue vertical bars below) would be a welcome sign for the bulls.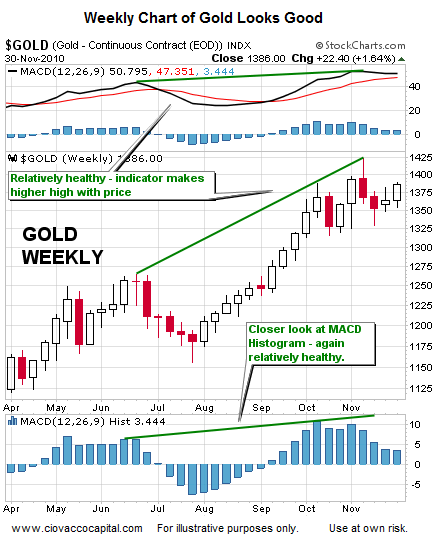 On the bearish side of the shorter-term outlook for the yellow metal, if global stocks can find their footing and economic data comes in better than expected, gold may lose some if its "economic crisis" appeal. Regardless, the long-term outlook remains sound. Some comments and an updated chart as of December 2nd are shown in this post.