Wednesday, September 19th, 2012
Traders use moving averages to filter out day-to-day volatility, allowing them to focus on longer-term trends. The 200-day moving average is commonly used as a bull/bear filter. Conditions are most favorable when price is above the 200-day and the slope of the 200-day is positive.
As shown below, following the recent announcements of additional money printing from the Fed and European Central Bank, silver's 200-day moving average is beginning to tick higher in a bullish fashion (see green arrow).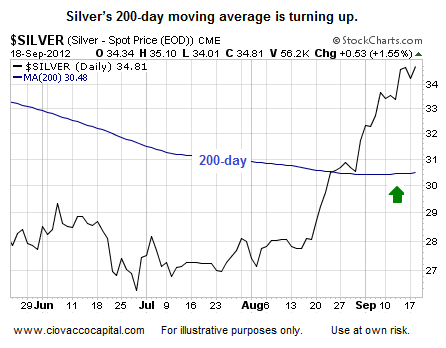 The chart below provides some perspective on recent bullish and bearish turns in silver's 200-day. When the 200-day turns down (red arrows), it indicates a bearish longer-term trend. Conversely, after the 200-day has turned up in the past (green arrows), silver has experienced big gains over the subsequent months.