Wednesday, October 31st, 2012
Last Saturday's video outlined numerous concerns we have regarding the market's risk-reward profile. Two weeks ago we described bearish thresholds on the chart of the S&P 500 relative to Treasuries (TLT). The table below is an updated version of the table described in the video below. The orange "YES" boxes will become red flags for risk if they carry into the close this Friday.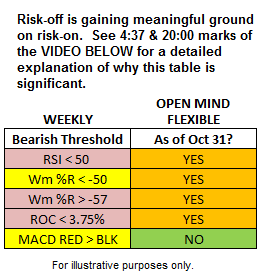 Below is the video originally posted on October 20. The portions beginning at the 4:37 and 20:00 marks describe the table above.
After you click play, use the button in the lower-right corner of the video player to view in full-screen mode. Hit Esc to exit full-screen mode.

<

The S&P 500 still has meaningful support at 1,403 and 1,396. A break of those levels on a closing basis would add fuel to the bearish fire.