Monday, April 30th, 2012
The situation in Spain remains fragile. From CNN:
NEW YORK (CNNMoney) — Spain has fallen into its second recession since 2009 as its economy shrank for the second consecutive quarter, according to a government report Monday.There are now a dozen European nations that have had their economies shrink for two consecutive quarters, a condition that generally equates to a recession.
The silver lining is Spanish 10-year yields have dropped 0.22% this morning. While the equity markets are down in Europe, the aversion to risk has been somewhat muted given we had a downgrade of Spanish debt on Thursday evening and the weak economic data this morning.
Short-term, the market looks a little tired, but as shown below:
The slopes of the 50-day MA (blue), 20-day EMA (red), and 40-day EMA are all positive (near green arrow).
The S&P 500 closed above all three moving averages on Friday (blue arrow).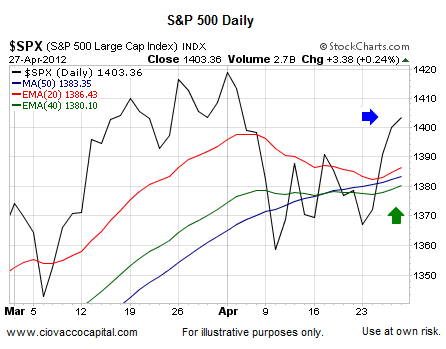 All things being equal, the chart above paints a positive intermediate-term picture.