Friday, March 30th, 2012
The chart below has possible bullish and bearish implications. From a bullish perspective, the blue 9-month moving average is turning up, which often occurs before a significant push higher. From a bearish perspective, the S&P is approaching long-term parallel trendlines from the 2007 highs. Another parallel trendline based off the 2010 and 2011 lows is also just ahead. Intersecting trendlines usually impact price in some way.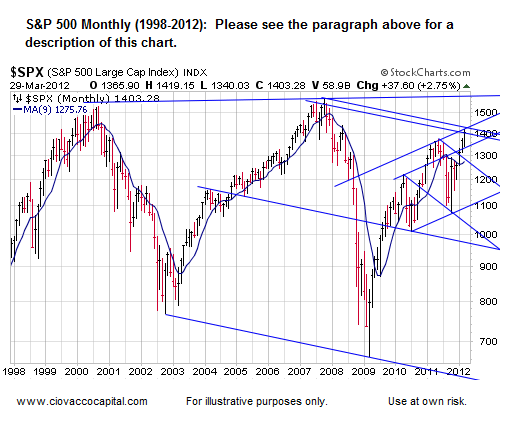 In the chart above there are three basic possible scenarios:
Stocks blast through the trendlines and move toward 1,500.
Stocks reverse near the trendlines and correct back toward 1,350, then push higher toward 1,500.
Stocks reverse near the trendlines and we kick off another mini bear market.
If the markets do not show some conviction soon via improved volume, breadth, and some life in commodities, scenario 2 above remains the base case. Given the big picture technical outlook and improved situation in Europe, scenario 3 seems the least likely. However, further deterioration in the Economic Surprise Index and Italian bond yields would improve the odds for scenario 3. The technical backdrop and a recent bullish cross on the monthly S&P 500 MACD tells us scenario 1 cannot be tossed aside, which means we need to remain flexible and open-mined.
Below is an example of one of the trendlines we mentioned during Thursday's afternoon session. Most of the charts improved between the post at 2:30ish and the close. The key points made yesterday:
Many markets are pushing the bearish envelope today (as of 2:20 p.m. EDT). For example, trendlines going as far back as the October lows are being tested or have already been broken. Markets can step outside of trendlines in a "head fake-like" manner for a day or two, only to rally again in a somewhat surprising manner. That is not a prediction, but something to watch on Friday and Monday. A push by the S&P 500 toward 1425ish remains quite possible as long as we hold above 1391.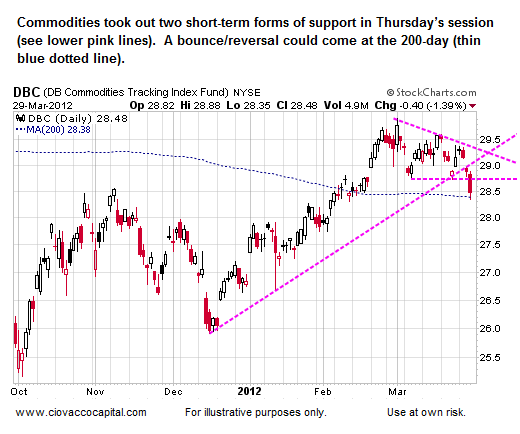 Some ETFs we are watching with good intermediate-term strength relative to S&P 500: EWW, KRE, XLF, FDN, XLY, QQQ, IBB, SMH, XHB. Some that may be trying to turn on a relative basis: GLD, SLV XLB, XLP, XLV.