Wednesday, February 29th, 2012
If you were in commodities in 2008, you remember the July waterfall declines, which offered little in the way of countertrend rallies. The collapse in commodities was a bad omen for risk. The S&P 500 dropped from 1,250 to 666 over the next eight months. That is an extreme example, but the concepts still apply to the present day.
It is also hard to forget the crash of silver in May 2011. The S&P 500 peaked simultaneously before dropping 20% over the next six months.
We have no idea what will follow today's high volume sell-offs in gold and silver, but we do know recent history tells us to pay attention and be very careful with risk assets. The gold ETF (GLD) had a four-minute span to remember today. Today's drop was void of any real countertrend rallies and it occurred with almost a three-fold increase in volume relative to a typical day. GLD normally trades 12.1M shares per day; today's session saw 34.9M shares change hands.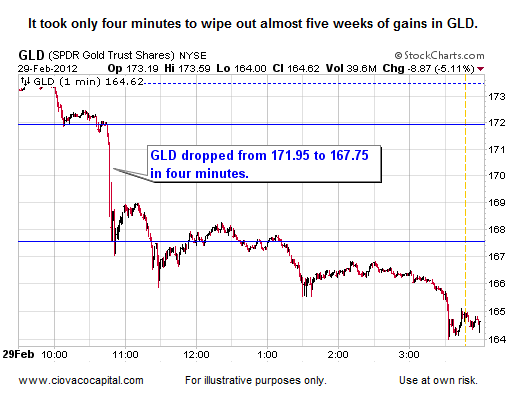 The silver ETF experienced a mini crash today losing 9.7% in about an hour and a half. SLV's average daily volume is 18.3M shares. Today an eye-popping 91.1M shares traded.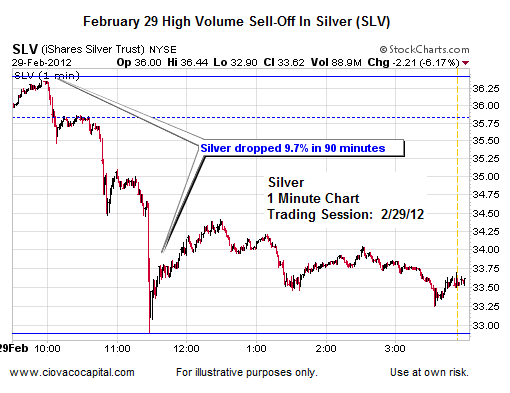 Both gold and silver experienced high volume and sharp sell-offs in spring 2011. As shown below, the stock market also experienced rough seas in the following six months.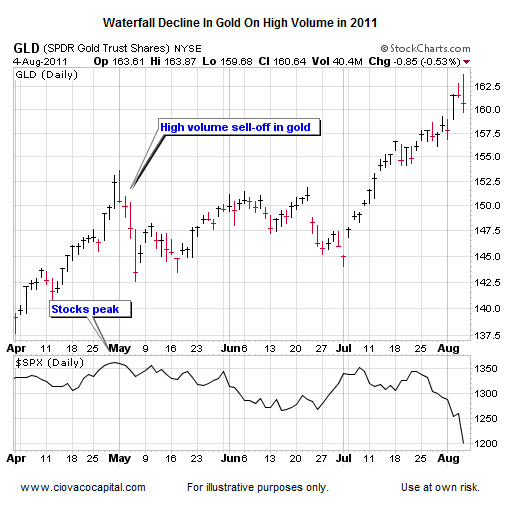 We have no idea what tomorrow will bring, but we do know it is prudent to respect high-volume, waterfall declines in any market. A close this week below 1,354 would add another check to the list of correction concerns. The bulls are still in control, but they may be losing their grip a little.