Friday, April 29th, 2011
On April 28, we completed the update to our asset allocation rankings. The table below shows investment sectors that remain well-positioned relative to the S&P 500 Index. The results align with the current readings on the CCM Bull Market Sustainability Index (BMSI) and CCM 80-20 Correction Index in that they continue to favor bullish outcomes, especially over the next 90 days. The sectors below correlate well with what we would expect to see in the middle stages of an economic recovery, meaning more upside in the general market typically follows a sector profile similar to what we have today.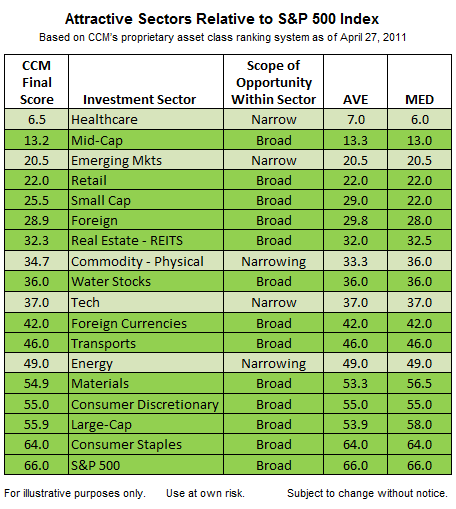 We stated that stocks, the dollar, and VIX were not anticipating a negative reaction to the Fed and that is exactly what we got. Some recent economic data that supports bullish outcomes for the broad market (SPY) and economically sensitive sectors:
* GDP has grown for seven straight quarters
* Inventory investment grew by $43.8 billion in Q1
* Motor vehicle sales rebounded sharply in Q1
* Chicago Fed National Activity Index (CFNAI) rose 0.26 points in March
The CFNAI correlates to slightly above-trend economic growth with limited inflation.