Sunday, March 20th, 2011
As we mentioned on March 17, an "oversold" CCI reading of -236, which is rare, recently occurred on the daily chart of the S&P 500 Index. This weekend we went back and found all the cases, during a bull market, where CCI hit -236 between 1982 and 2011. It only occurred 40 times. From a historical risk-reward perspective, it may offer a very good entry point for cash. Risk-reward ratios historically fell between 5.39 and 30.05 in favor of bullish outcomes when you look at the market's performance three weeks to twelve weeks after a CCI reading of -236 or lower was registered on the daily chart of the S&P 500.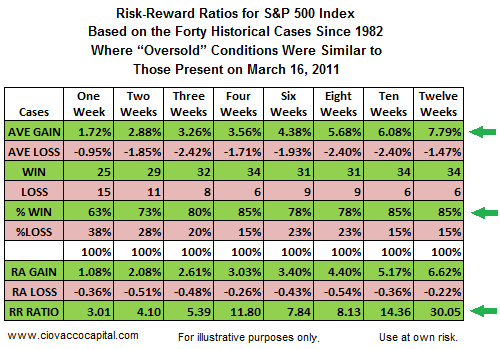 Before we invest more cash, we would like the market to check off a few more of the "things we would like to see" as shown in the table from March 17 (see "Patience is a Virtue" table).